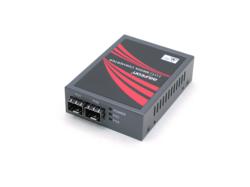 The media converter provides a point-to-point fiber connection for long distance deployment with a reliable and stable link over 10 Gigabit devices.
Brea, CA (PRWEB) October 01, 2012
The FCU-5002-SFP+ comes with a five year warranty, complies with IEEE 802.3ae 10GBaseR, and is compatible with Aaxeon's FCU-Rack16 Series. SFP plug and play modules are sold separately, and can reach up to distances of 40km.
When transmitting long distances, fiber transmission systems can be affected by many factors such as noise, dispersion, crosstalk, etc. The media converter's 3R signal regeneration relays or regenerates the optical signal that may have been degraded during the transmission, therefore allowing the signal to reach longer distances without fear of instability or degradation.
For more information on Aaxeon's newest media converter, please visit their website at http://www.aaxeon.com or view the product overview at http://www.youtube.com/AaxeonTechnologies.
About Aaxeon Technologies, LLC
Aaxeon is a developer and supplier of Device Networking and Industrial Communication products. Aaxeon's main focus is to be a leading supplier of products and solutions into the rapidly growing markets of M2M (Machine-to-Machine) and Industrial Ethernet.