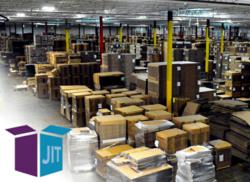 Good distributor partnerships start with great communication and transparency.
Schaumburg, IL (PRWEB) October 08, 2012
Distributors looking to enhance or add a source of wholesale boxes should look into The Packaging Wholesalers new website, better pricing, and increased service levels.
The Packaging Wholesalers introduced a revolutionary customer experience to packaging and shipping supply distributors. The new state-of-the-art site offers Delivered Prices nationwide, package optimization, the fastest live shipping quotes available, and the most intuitive interface in the packaging industry. The Packaging Wholesalers already offers 1,000's of popular packaging and wholesale mailing boxes, in stock, and ready to ship to distributors or blind drop-ship to their customers.
The Packaging Wholesalers expands packaging supply and inventory offerings to distributors and boasts the industry's timeliest fulfillment. Packaging distributors can purchase shipping boxes and other packaging supplies from a variety of sources, but The Packaging Wholesalers offers more value, enhanced ordering capabilities, and the best customer service in the business. While The Packaging Wholesalers leverages technology to better serve distributors online, every phone call is still answered by a person.
Quick and easy ordering is a priority to customers, and sourcing wholesale packaging boxes or other packaging supplies is no exception. Purchasing managers know what they want and when they need it, and now they have a site that works like they do.
As part of this release, The Packaging Wholesalers are also expanding communication options for their distributors through the use of WordPress, LinkedIn, Twitter, and FaceBook. Mike Hrbacek, President of The Packaging Wholesalers states, "Good distributor partnerships start with great communication and transparency."
"This release is the beginning of a revolution in the packaging industry and wholesaler fulfillment. We [The Packaging Wholesalers] experienced a tremendous amount of growth in the last few years, and the lessons learned from our customers are the driving force for improvement. We proudly enjoy an extremely high satisfaction rating with our distributors, but their needs continue to grow. Our succinct response is to improve everything about how we work with our distributors, enabling them to better serve their customers." says Mr. Hrbacek.
Packaging distributors not currently working with The Packaging Wholesalers should pay attention. Upcoming releases include distributor websites and plug-ins designed to seamlessly integrate with back office systems, increased fulfillment options, printed marketing programs, as well as ground-breaking online marketing programs.
If you have not visited The Packaging Wholesalers or it has been a while, now would be a good time to do so.