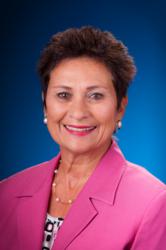 "Fritzi brings a wealth of experience with strategic planning and industry market assessments and forecasts."
- Gary Loyd, CEO
Chantilly, Virginia (PRWEB) October 02, 2012
Gary P. Loyd, CEO of Centurion Research Solutions, welcomed Fritzi Serafin to Centurion as Vice President of Research Services. Fritzi brings a wealth of experience with strategic planning and industry market assessments and forecasts.
Ms. Serafin will oversee the delivery of strategic and market research analysis services and provide custom research and analysis reports on the federal government market, trends and industry competitors. She will also provide subject matter expertise to Centurion's Analytics Competency Center.
Fritzi has over thirty years experience in the aerospace/defense and information technology market providing assessments of new market areas, competitive analysis and federal budget analysis. Her previous position was with the North American Public Sector of CSC as Senior Research Analyst. Prior to that, she held various management positions at Federal Sources, epipeline and PricewaterhouseCoopers.
About Centurion
Centurion Research Solutions, founded in 2003, is a business intelligence and analytics company with a simple mission: offer innovative solutions that help federal contractors efficiently win more government business. To achieve this mission, Centurion has been providing online, subscription-based services, custom research and analysis, tools and methodologies, professional services and in-depth training. Industry leaders such as Alion, Northrop Grumman, SAIC, Lockheed Martin, BAE Systems, InDyne, CACI and Raytheon rely on Centurion solutions, thought-leadership and expertise to help them identify and analyze relevant opportunities to win more government contracts.