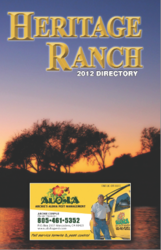 "This directory is our residents' lifeline. They use it daily to contact neighbors and find local contractors and service workers."
- Stephanie Dayton
Paso Robles, CA (PRWEB) October 04, 2012
Access Publishing, a print and web design company in Paso Robles, CA, is starting work on two niche business directories serving the exclusive communities of Heritage Ranch and Oak Shores at Lake Nacimiento, CA. The Heritage Ranch Directory and Oak Shores Directory both include a business directory, white page listings of residents, maps and important community information.
The annual books connect residents to businesses who offer services in the North San Luis Obispo and South Monterey County areas. The local yellow pages provide a convenient list of those businesses willing to travel there, because these two resort communities are 30-to-45-minutes away from Paso Robles, CA.
"This directory is our residents' lifeline. They use it daily to contact neighbors and find local contractors and service workers," says Stephanie Dayton from the Oak Shores Community Association.
"We are proud to be the only directory for these communities for more than five years now," says Scott Brennan, owner of Access Publishing. "This year we are upgrading the books to be full-color throughout, along with perfect binding."
The local guides feature beautiful photographs of scenes from Lake Nacimiento on their attractive glossy covers. At 5-inches wide and 8-inches tall, they are a small and convenient size.
When businesses are searching for advertising in Paso Robles, they can find affordable options with Access Publishing. "These two directories are an excellent part of any Paso Robles business marketing plan," says Brennan.
Advertising rates: Full page - $459, Half page - $299, Quarter page - $199. A 20% discount is available for advertising in both directories. Free design, full color, and a free online business listing are included in the advertising package. A convenient 3-month payment plan is available with a credit or debit auto-pay agreement.
Publication date for the directories is Jan. 1, 2013. Ad deadline is Nov. 30. Distribution of more than 3,500 printed directories is by US mail to every resident in the area. Additionally, the books are available at the community association offices.
Premium advertisers include: American West Tire Pros, Archie's Aloha Pest Control, Country Real Estate Carolyn Potts, Oak Hill Market, Oak Shores Realty-Grace Borzini, and more:
A Mobile Notary by Sally, 1729 Ponderosa Lane, Paso Robles, CA 93446, (805) 440-4025.
Auto Limits Auto Repair, 2801 Spring St., Paso Robles, CA 93446, (805) 239-2288.
Callie L Fisher Insurance Services, 578 Spring St., Paso Robles, CA 93446, (805) 238-6593.
Country Florist, 1191 Creston Road #114, Paso Robles, CA 93446, (805) 239-3032.
Frontier Floors, 830 21st St., Paso Robles, CA 93446, (805) 238-7878.
Lazer Star, 2734 Danley Court, Paso Robles, CA 93446, (805) 226-8200.
North County Carpet Cleaners, 6446 Windmill Pl., Paso Robles, CA 93446, (805) 239-9355.
Paso Robles Heating and Air, 1142 Railroad St., Paso Robles, CA 93446, (805) 238-7553.
Ray M. Buban, EA Financial & Tax, 8425 Morro Road, Atascadero, CA 93422, (805) 466-7249.
The Mobile Oil Changers, 1438 C Vine St., Paso Robles, CA 93446 (805) 238-2099.
The Tree Man, 2630 Ramada Dr., Paso Robles, CA 93446, (805) 227-6225.
About Access Publishing:
Access Publishing provides local business marketing solutions. It is an expert in online marketing in Paso Robles, Internet advertising, local search engine optimization, SEO, SEM, web design, writing and graphic design.
Access Publishing started an online marketing service for small businesses in San Luis Obispo County. It helps local business rank higher in Google, Yelp, Yahoo, Bing, and other internet directories. The service, called Local Search Optimization, is the key for small businesses to improve their online presence. See more at accesslocalsearch.com.
The company's publications include the San Luis Obispo Visitors Guide, North County Access, Central Coast Active, Your Cambria Phone Book, Templeton Chamber Guide, Heritage Ranch Directory, and the Oak Shores Directory.
Access Publishing serves Paso Robles, Atascadero, Templeton, San Luis Obispo, Grover Beach, Pismo Beach, Shell Beach, Avila Beach, Oceano, Arroyo Grande, Nipomo, Morro Bay, Los Osos, Cambria, Cayucos, San Simeon, Creston, Heritage Ranch, Oak Shores, Santa Margarita, and San Miguel.
Access Publishing, 806 9th Street #2D, Paso Robles, CA 93446, (805) 226-9890.