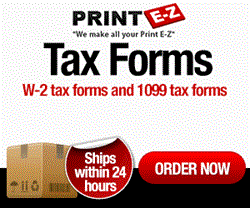 The W3 – W2 form kits have been designed to ensure that the customer never really forgets to file in the W3 form that needs to be filed in with the set of W2 forms.
Monroe, NY (PRWEB) October 10, 2012
In continuation of a strategy to create a better environment for the customer and to provide a range of options, PrintEZ.com launched W-3 forms along with sets of W2 forms in the form of kits. These kits have been designed to ensure that the proper tax filing process is followed. In a recent interview, Morris Rose, CEO PrintEZ.com said, "From extensive research and insight into the tax forms customer, the company has realized that often customers miss out on ordering for W3 forms. This only leads to last minute hassles and delays that can often lead to fines. The W3 – W2 form kits have been designed to ensure that the customer never really forgets to file in the W3 form that needs to be filed in with the set of W2 forms".
PrintEZ.com is a leading online retailer for tax forms of all kinds. In the last few weeks, the company has launched a series of new tax forms in order to ensure that additions can be made to the existing list of commonly used tax forms. Post the launch of the 1099 – DIV tax form, the tax form retailer has now focused on offering convenient kits for small and medium sized businesses as well.
Form W-3 has always been available at PrintEZ.com in various formats. A customer has always had the option of choosing these forms for the dot matrix printer or for the laser printer. In addition to that a variety of formats ensures that almost every customer finds the form that is required in terms of compatibility with the tax accounting software or printer.
However, this is the first time that the company is offering combination kits of W2 forms and the W3 form. These kits have been created in order to ensure that there is one for small business requirements, medium enterprises and for the large corporate houses that may need complete cartons of W2 forms.
Marketing personnel at PrintEZ.com state that the inspiration for the idea came from a series of last minute rush orders for the W3 form. Customer feedback was sought and research was conducted to understand that this was one form that was often left out while accountants in the office got busy with creating 6 copies each of W2 forms for each and every employee of the company. In the chaos of processing, printing and mailing these forms, adding in the W3 form along with the Social Security Administration's set of W2 forms was often missed. The W2-W3 form kit idea was therefore generated via a genuine customer need.
It can also be seen that PrintEZ.com is continuing efforts to make sure that all business printing solutions are being covered in the strategy to ramp up. As part of this strategy, the website was modified to make it more accessible. Initial results show that attempts at ensuring easier navigation and access have been successful. PrintEZ.com is fast emerging as a company that understands customer needs and one that is not shying away from giving the customer what is desired.
First time customers are offered a discount of 10 percent on the invoice value. Tax form orders are shipped to the destination within 24 hours of the order being registered and new product codes are added regularly.
Some of the other categories in the business printing domain that PrintEZ.com offers include business checks, business forms, mailing envelopes, envelope and product labels and more. There are promotional categories like promotional gifts, food basket, corporate gifting and holiday cards too. Plans are in progress to refurbish and add products to each of these categories as revealed by PrintEZ.com managers.
To read more about Tax Forms click here http://www.printez.com/tax-forms.html
Get more information about how Print EZ offers and new launches on Tax Forms call the company at 1-888-246-0635.
and get regular updates of new offers and deals here.
Print EZ
4 N Main St.
Monroe, NY 10950
(845) 782-5832