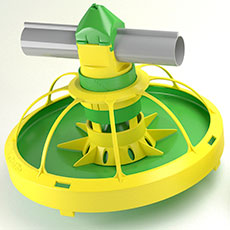 (PRWEB) October 10, 2012
PA TEXHA – the World's lager manufacturer of poultry cage equipment for broilers growing has elaborated innovative feeding system. The project which was implemented by Company together with its Japanese partners received songful name "Ko Chi Bo".
The key link of the new feeding system is the feeder, which has a number of advantages:

provides access to the feed from the first days of feeding;
reduces the loss of feed from the feeder;
easy in use and maintaining;
has a long term of exploitation and large amount of durability.
For the present day four types of feeders both for ground and cage equipment for broilers housing are already developed. The system was approbated on the number of commercial poultry farms and the great results were received.
In the nearest future the factory, which is located in Novograd-Volynskyi, is going to start producing most of the elements for this equipment.
TEXHA's history takes its beginning since 2000. For more than 10 years TEXHA offers to their customer's not only equipment, but a highly technological solutions for automation of all systems for poultry life-support and maintenance during its housing and growing. For the present day the Company has its own representatives in ten countries (Argentina, Belarus, Guatemala, Greece, Kazakhstan, China, Mexico, Russia, Tunis, and Uzbekistan), exports own production to more than 20 countries, has about a thousand implemented objects for more than 80 millions of bird places. Taking into consideration these latest achievements, it is possible to affirm that all of these figures will considerately grow in the nearest future.