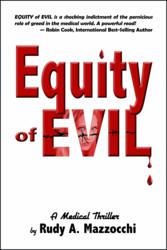 "I found the book a great story to read although it was difficult not to be horrified at some parts of it, but I'm so happy I took the whole journey."
- Deborah/TheBookishDame
Orlando, FL (PRWEB) October 02, 2012
Debut Author Rudy Mazzocchi's EQUITY of EVIL has received worldwide recognition by winning multiple literary awards including the 2012 Global eBook Award for Fiction/Suspense in the midst of political upheaval regarding women's health issues. Over one hundred reviews have been written about this bold novel that dares to include controversial themes related to abortion, rape and human trafficking. Although it is not for the "faint of heart", this novel brings into question everything from right and wrong, good versus evil, what is immoral or unethical, and leaves you to struggle with your own personal views as the story moves on to some semblance of hope.
As depicted in one of the underlying storylines within EQUITY of EVIL, the use of new state-of-the-art abortion methods designed to eliminate back-alley procedures eventually lead to the corporate manipulation and control of women's bodies for the sake of profit. Women are discarded from the darkness of the sex trade industry to become victims in a human organ trafficking scheme when their stolen wombs are used like laboratory incubators. However, in the end, love and vengeance eventually triumphs over the despair of innocent victims in this brave New World.
During the 66th United Nations General Assembly in New York (April 2012) a dedicated session on Human Trafficking was organized by the UNODC (United Nation Office on Drugs and Crime). It was reported that human slavery "generates more than $32 billion annually, rivaling the profits reaped by the illicit trade in arms and drugs". According to the UNODC data, women comprise two thirds of trafficking victims and at any given time, an estimated 2.4 million people are trapped in human trafficking. It was also reported that human trafficking statistics are growing at an overwhelming rate with 161 countries reported to be affected by being a source, transit or destination for victims.
A percentage of the proceeds from the sale of this novel will be donated to the Polaris Project, one of the leading organizations in the global fight against human trafficking and modern-day slavery. Named after the North Star "Polaris" that guided slaves to freedom along the Underground Railroad, Polaris Project is transforming the way that individuals and communities respond to human trafficking, in the U.S. and globally.
Available on Amazon, Barnes & Noble and various other locations in both eBook and Print version, this is becoming one of the most recognized new medical thrillers of our time. A must read!
About the Author:
Rudy Mazzocchi is best known as a medical device and biotechnology entrepreneur, inventor, and angel investor, with a history of starting new technology ventures throughout the U.S. and Europe. He's been privileged to have the opportunity to see the newest innovations in healthcare and work with some of the most brilliant researchers, scientists and physicians in the industry.
Authoring more than 50 patents, he has helped pioneer new companies involved in cardiology, oncology, orthopedics, neurosurgery and even embryonic stem-cell development. Through these efforts, he has become the recipient of many technology and business awards, including the Ernst & Young Entrepreneur of the Year in Healthcare and the Businessman of the Year Award.
Combining these experiences and opportunities, with thousands of hours of travel and long evenings in hotel rooms, he found the initiative to start writing a collection of medical thrillers based on true events, the first of which is entitled EQUITY of EVIL.
Book Trailer on YouTube: http://bit.ly/xusDAW