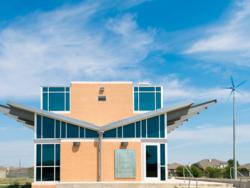 "In a structure dedicated to energy efficiency research, using genuine brick with its thermal efficiency was a natural choice." Mark Burden, Acme Brick
Fort Worth, TX (PRWEB) October 02, 2012
A research facility unlike any other in Texas recently opened in Denton, Texas at the University of North Texas' (UNT) Discovery Park, a 300-acre research campus located about five miles north of the main campus. UNT's Zero Energy Research Laboratory was funded with a combination of higher education assistance funds (HEAF), operating funds and gifts-in-kind. The research lab was also made possible by donations from Acme Brick http://www.brick.com and several other companies in the building products field. Acme donated some 10,000 modular size brick from their Denton, Texas plant. This is the same brick used in the majority of the university's buildings. Of additional ecological interest is the fact that the Denton plant and the raw clay material are located less than 10 miles from the new lab. The LEED "regional materials" criterion only requires that a product fall within 500 miles of the use site.
Acme's President and CEO Dennis Knautz said that, "This was a great opportunity to be involved in such a forward-looking project. I know that many important advances in energy efficiency will be made in this facility. It further enhances our strong relationship with this dynamic university."
The lab is a state-of-the-art facility – the only one of its kind in Texas – designed specifically to test various energy technologies and systems in order to achieve a net-zero consumption of energy. Net-zero consumption means different building systems, such as solar, geothermal and wind systems, can produce enough energy to power a building and in many cases even create excess energy to return to the power grid. The lab will give students and researchers the tools to study the next generations of sustainable and renewable energy technologies.
The structure has a number of advanced energy technologies integrated into its 1,200 square-foot space, including a geothermal heat pump, a radiant heated floor slab, solar panels, a building energy monitoring and control system and a rainwater collection system, to name a few. Outside, the facility has a residential-scale wind turbine and an electric vehicle charging station.
The doors, windows, roof and supporting energy efficient equipment are designed to be easily expanded and exchanged so that researchers can analyze new building materials. Dr. Nandika D'Souza and her research team hope to use the facility to test their plant-based building materials eventually. D'Souza is developing materials made from the fibers of the kenaf plant, a cousin to bamboo, with a $600,000 grant from the National Science Foundation. http://engineering.unt.edu/mechanicalandenergy/research-spotlight-sustainable-building-research-team .
Dr. Yong Tao, chair of the Department of Mechanical and Energy engineering at UNT and the PACCAR Professor of Engineering, spearheaded the design and creation of the lab. Dr. Tao also served as the director of the Future House USA project, an initiative that brought together academics, builders, industry sponsors and lobbyists to create a 3,200 square-foot zero-net energy house. The house was built in Beijing and displayed during the 2008 Olympic games.
"There are very few places for students to get hands-on experience working with the green technologies that will power our future. The Zero Energy Research Laboratory is now one of those locations," said Tao. "This facility will be a great resource for our students, researchers and our industry partners."
Architects: Jacobs Engineering Group
General Contractor: Nouveau Construction & Technology Services
Acme Brick, the largest U.S. brick company, is a member of the Berkshire Hathaway family of companies headed by famed investor Warren Buffett. Other Acme companies include: Featherlite Building Materials, Texas Quarries Limestone, and IBP Glass Block Installation Systems. Acme celebrated its 121st birthday on April 17, 2012. Visit Acme Brick on facebook at https://www.facebook.com/AcmeBrickCo