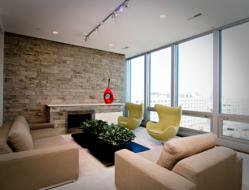 The Montgomery Ward Building, located in Chicago's prime River North neighborhood...an ideal place to live, work and play.
Chicago, IL (PRWEB) October 12, 2012
Designed by world-renowned architect Minoru Yamasaki, the same designer who created the World Trade Center in New York, The Montgomery was built in 1972 and newly renovated in 2004. This exquisite high-rise complex is the ideal living space for downtown lovers looking for luxury homes for sale.
Specifically featured was the 2,245 square foot home with 3 bedrooms and 3 baths owned by architect and interior designer couple, Lance and Karen Josal.
Located on the ninth floor, the condo was purchased in 2006 and the Josal's did slight renovations including the dining room's handsome paneled look by removing a full-height wall and installing an L-shaped set of shelving, some for the media room and some for the dining room. At the other end of the condo are the bedrooms—two with amazing views of the Windy City's Gold Coast.
Additional amenities of The Montgomery include an amazing sundeck, clubhouse party room, skyline and lake exposure and, of course, a concierge service.
The property is being sold by River North's number one broker (Koenig & Strey Gold Coast), Michael Rosenblum, who is ranked in the top 1% of Chicago Realtors.
Link to the article and video: http://www.chicagomag.com/Radar/Deal-Estate/September-2012/All-the-Marbles-in-River-North/
More information on the property and Michael Rosenblum visit http://michaelrosenblumpresents.com/listing-realestate-websites/featured-chicago-condos-for-sale/
About Michael Rosenblum
Ranking in the top 1% of Chicago Realtors® by doing business the old fashioned way, Michael Rosenblum creates total satisfaction leading to a continuum of referrals one transaction at a time. As the number one selling broker in the River North neighborhood and the number 1 producing broker in the Gold Coast office of Koenig & Strey on Michigan Avenue for the second straight year, Michael has individually reached more than $150 million in sales to date.
Michael has in-depth knowledge and a tenure sales history in the neighborhoods of Chicago: River North, Gold Coast, Streeterville, Lakeview, Lincoln Park, Lakeshore East, The Loop, South Loop, West Loop, River West, East Village, Ukranian Village, Bucktown and Wicker Park. If you are looking to buy or sell a home in Chicago, Michael can help! Whether you want to find townhouses or condos for sale in Chicago, Michael Rosenblum will get the job done, and his first priority is YOU! To learn more visit http://www.michaelrosenblumpresents.com or call 312.651.6876.