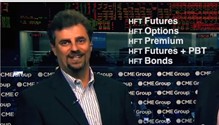 "We are excited to team up with Hamzei Analytics to provide a new platform and new technology to enhance our service for T-bonds and T-notes futures and options,"
Chicago, IL (PRWEB) October 09, 2012
Hamzei Analytics, LLC, which provides real-time, proprietary indicators and analysis for high-frequency trading (HFT) in futures and options, is teaming up with veteran bond trader George Cavaligos to provide exclusive trade commentary and indicators for Treasury bond and Treasury notes. The new service will feature a dedicated online "chatroom," and will also include streaming audio, HD video, live Twitter support, and more.
The collaboration brings together the state-of-the-art Hamzei Analytics technology platform and its secure chatroom for professional traders with George Cavaligos (formerly of NTDragonSlayer.com) who has been a member of the Chicago Mercantile Exchange and Chicago Board of Trade since 1984.
"We are excited to team up with Hamzei Analytics to provide a new platform and new technology to enhance our service for T-bonds and T-notes futures and options," Cavaligos stated. "This new platform will be a true value-added experience for traders."
"We are pleased to welcome George Cavaligos. This is a partnership based on complementary strengths," added Fari Hamzei, founder of Hamzei Analytics. "I have followed George, in real time, since July/August 2010. His morning calls are a must read for anyone who is serious about trading equities or debt instruments."
Features of the new HFT Bonds service include:

Dedicated Chatroom with Transcripts
Streaming Audio
Streaming Twitter Support
Real-Time Content Management Viewer
HD Video Player
Real-Time Trade Alerts
Coming soon (estimated late Q3/early Q4 2012) will be an exclusive Dollar-Weighted Put/Call Ratio for T-Bonds and T-Notes. This signature service of Hamzei Analytics will provide in-depth insight into real-time bonds/notes option trading sentiment.
New subscribers may test-drive the HFT Bonds service for 30 calendar days at no cost. Signup is available now through October 15. For information, send an email to HFT_Bonds(at)HamzeiAnalytics(dot)com.
For more information about HFT Bonds click here: http://www.hamzeianalytics.com/HFT_Bonds_details.asp. Information on other Hamzei Analytics services may be found at http://www.hamzeianalytics.com/products.asp .
About Hamzei Analytics, LLC
Hamzei Analytics offers propriety, real-time trading indicators and analysis in futures, options, and bonds.
About Fari Hamzei
Fari Hamzei is frequently quoted by CNBC, Bloomberg, Fox Business and RealMoney. His book, Master Traders: Strategies for Superior Returns from Today's Top Traders, was published by John Wiley & Sons. Fari is a graduate of Princeton University with a BSE degree in financial engineering and studied equity & debt derivatives under financial pioneers Jack Shelton, Ed Thorp, Richard Roll and Bob Geske at the UCLA Anderson Graduate School of Management. He was a director of strategic planning at Northrop Grumman Corporation's Aircraft Group. Fari is the founder of http://www.HamzeiAnalytics.com
About George Cavaligos
George Cavaligos has a B.A. from North Central College in Secondary Education and Biology. He started his futures career in 1980 with Drexel Burnham Lambert and rose from a runner to a large sales desk manager in the Eurodollar and T-bill futures pits with DBL. A member of the CME and CBOT since 1984 with DBL, Banque IndoSuez, Carr Futures, Bear Stearns and previously a full service Institutional Futures Broker with MF Global, George has provided futures and cash based technical analysis to a wide range of domestic and foreign customers.