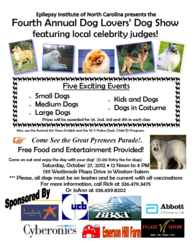 "The Brain is Where You Live"
Winston Salem, NC (PRWEB) October 12, 2012
Dr. Christine Dean, M.D. is proud to announce EINC will be hosting its Fourth Annual Dog Lovers' Dog Show at EINC office on Saturday, October 27th, 2012. Come out and enjoy the afternoon. EINC offices is located at 1311 Westbrook Plaza Dr., Winston Salem, NC. Dog Show begins at 12 noon and will end at 4pm. There will be five exciting events and free food and entertainment provided. Many vendors on hand to share great products for you dogs. For directions click on following link: http://goo.gl/maps/hx7i0 For more information go here: https://www.eiofnc.org/DogShow2012.html
The entry fee for the dogs is ONLY $1.00. If you would like to reserve a place as a vendor, please contact JoAnn or Rick @ 336.659.8202.