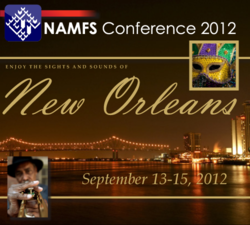 Our annual conference brings together the best and the brightest in the mortgage field service industry", says Eric Miller, Executive Director. "Attending NAMFS's conference is the best way for professionals to learn from one another, make new connections
Stow, OH (PRWEB) October 02, 2012
Close to 600 mortgage field service industry professionals from around the U.S. gathered at the National Association of Mortgage Field Services Annual Conference and Exposition in New Orleans, LA. NAMFS's annual conference is the industry's leading event, with unparalleled workshops featuring industry specialists who shared business strategies, and guest speakers who educated and inspired attendees.
Click here to watch the 2012 NAMFS conference video!
During the three day conference which was held September 13th-15th, attendees furthered their professional skills and networked with fellow experts. Nearly four dozen exhibitors were on hand at the Exposition, demonstrating the latest products and services.
NAMFS kicked off the 2012 conference by partnering with the New Orleans chapter of Rebuilding Together to sponsor a volunteer opportunity for attendees of this year's conference on September 13. Over 150 volunteers helped repair and paint multiple homes in New Orleans as well as clean up and repair a local park and playground. We were thrilled at the opportunity to give back to the community.
NAMFS's 2012 conference planning committee ensured that a variety of programs were available. Sessions were designed to provide an introductory course based on our training modules as well as assisting attendees to handle common questions, concerns and challenges associated with the day-to-day operation of a business in the mortgage field service industry. Participants can utilize the information gathered during these sessions to take advantage of the NAMFS Certification program once returning to their offices. In addition to breakout sessions, general sessions were presented offering insights into the most recent developments within HUD, Fannie Mae and Freddie Mac that impact the field service industry.
About NAMFS
The National Association of Mortgage Field Services, Inc. (NAMFS) is the premier trade association for the mortgage field service industry. We are dedicated to working with all entities of the industry from the Government Agencies and investors that set policy to the contractors and inspectors that perform the work.