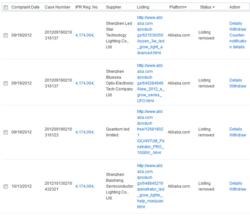 We have removed over 200 listings in just 2 weeks from over 30 different companies using our Penetrator® trademark on LED Grow Lights thanks to the Ali Protect program.
Reno, NV (PRWEB) October 20, 2012
Hydro Grow is a US-based manufacturer and inventor of high performance LED Grow Light systems with 3 patents pending, 2 registered trademarks and multiple trademarks awaiting registration in the USA. Like most modern companies Hydro Grow assembles their finished product in China where labor costs allow them to offer more competitive pricing to consumers; however this has also opened them up to the Chinese counterfeit market which targets market-leading companies like their own.
Since March of 2012 Hydro Grow designs have been copied rampantly by Chinese manufacturers, some even using Hydro Grow's name, trademarks, and copyrighted text and images from their website. Although Hydro Grow filed for patent protection over 2 years ago, their applications are still some of the many stacked up awaiting approval from the US government. Trademark applications on the other hand are approved more quickly, and 2 have already been registered this year giving Hydro Grow some long-awaited IP power.
Intellectual Property (IP) Rights have become a major factor in business since the emergence of e-commerce, as stores who once worried about local businesses stealing part of their market must now deal with this occurrence on the global scale. With every country having different laws in regards to the sale of counterfeit and/or patent/trademark infringing merchandise, market leaders like Hydro Grow have a difficult time enforcing their IP in foreign markets without foreign IP filings.
The cost for filing IP varies from a few hundred dollars per trademark to tens of thousands for in-depth patents, preventing many small or start-up companies from filing for IP outside of their country. As a result inventors like Hydro Grow are often left open for counterfeit attacks by companies in other nations, but luckily a few progressive sites like Alibaba are moving beyond borders to ensure fair business and trade for all.
Alibaba is in essence the "Google" of business supplier search engines, linking businesses to manufacturers for every product from toothpaste to saunas. Alibaba has strict guidelines on posted listings and a special program called Ali Protect designed to help business owners enforce their IP against suppliers who infringe on their patent and/or trademark rights. Many Chinese businesses rely on Alibaba to post listings for products they offer, hoping to attract potential business. Subsequently Alibaba is where many suppliers who have copied Hydro Grow designs or used their trademarks have gone to post their listings, and now that Hydro Grow has 2 registered trademarks they are beginning to fight back.
Hydro Grow is taking a no tolerance stance towards companies who infringe on their IP, and have already completed what they call "stage 1" take downs on the Chinese companies responsible for counterfeiting their grow light designs and abusing their trademarks. "Stage 1 has been very successful so far" stated Cammie Mckenzie, CEO of Hydro Grow, "we have removed over 200 listings in just 2 weeks from over 30 different companies using our Penetrator® trademark on LED Grow Lights thanks to the Ali Protect program." According to Mckenzie Hydro Grow won't stop their take downs until all of the companies infringing on their trademarks and patents are eradicated from Alibaba.
The counterfeit industry strips billions in profits every year from the products they imitate, and Hydro Grow is one of the many American businesses who must deal with this on a day to day basis with little to no recourse. While sites like Alibaba are doing their best to ensure free trade for all, there is no assistance offered by these sites until the government has approved a trademark or patent. As these processes can take years before approval, the rest of the world is given free rein to copy designs and steal trademarks until the day the IP is registered. While Alibaba should be commended for their practices and acceptance of international IP, their services are only a band-aid to the real problem of governments taking years to approve IP and companies having no protection during the process.
About Hydro Grow:
Hydro Grow, the leading provider of high-efficiency LED horticultural lighting solutions for commercial growers and agri-businesses, enables horticulturalists to reduce energy consumption over 50% while increasing operational efficiencies, crop yields, and hastening growth cycles. Hydro Grow offers third-party, data-proven solutions for greenhouses, indoor farms, research centers, and Universities, which may be eligible for energy efficiency subsidies from local utility companies and government programs. The company's 3,000+ commercial and private customers include the USDA, DOE, and multiple Universities. Headquartered in Reno, Nevada, Hydro Grow is privately owned and operated. For more information call 1-661-252-2555 or visit hydrogrowled.com.