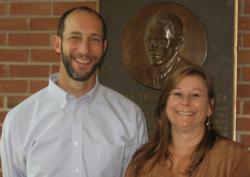 Saranac Lake, New York (PRWEB) October 03, 2012
New research from the Trudeau Institute demonstrates that prior immunity—the result of a previous influenza infection or vaccination against the virus—plays a critical role in preventing secondary bacterial infections. Bacterial infections are a common occurrence that can lead to a number of serious complications, including death. The findings of Drs. Laura Haynes, Stephen Smiley and their Trudeau colleagues were just published in the October 2012 issue of The Journal of Immunology.
One of the reasons influenza infection can result in death is that it often sets the stage for secondary bacterial infections. These infections cause a number of diseases, including pneumonia, bronchitis, sinusitis, and otitis media. Bacterial pneumonia was the leading cause of death during both the 1918 and 2009 influenza pandemics, and pneumonia and influenza together are ranked as the eighth leading cause of death in the United States.
The current standard of care for bacterial pneumonia is the administration of antibiotics, which have limitations in their capacity to prevent or treat infection. Thus, there is the need for improved preventive measures, especially continued widespread influenza vaccination.
Drs. Haynes and Smiley have used an animal model to examine how this susceptibility to secondary bacterial infections following influenza infection can be reduced to limit its occurrence. Their studies found that any prior immunity to influenza, whether from infection or vaccination, could significantly reduce susceptibility to subsequent bacterial infections. This prior immunity does not have to completely prevent influenza infection; it just needs to reduce the inflammatory immune response to the virus in the lungs. That is, you may still become ill with influenza, but you have a much greater chance of not dying from a secondary bacterial infection.
Among the study's important findings: prior immunity can be generated by vaccinations that do not match the infecting influenza virus. This point is especially important in the case of newly emerging influenza strains that can spread rapidly and for which there are no existing vaccines.
Drs. Haynes, Smiley, et al., also discovered that this protective immunity can be provided by vaccination with only a single, conserved, influenza protein or even by administration of antibodies to that protein, a strategy which would be beneficial for individuals that are considered high-risk and have reduced responses to traditional influenza vaccines, such as the elderly, the very young, the immunosuppressed (AIDS patients, those undergoing cancer therapy or organ transplantation), and others with underlying health problems.
Paper cited:
"Immunity to the conserved influenza nucleoprotein reduces susceptibility to secondary bacterial infections" by Laura Haynes, Frank M. Szaba, Sheri M. Eaton, Lawrence W. Kummer, Paula A. Lanthier, Ashlee H. Petell, Debra K. Duso, Deyan Luo, Jr-Shiuan Lin, Julie S. Lefebvre, Troy D. Randall, Lawrence L. Johnson, Jacob E. Kohlmeier, David L. Woodland, and Stephen T. Smiley.
Published in The Journal of Immunology October 1, 2012.
About the Trudeau Institute
The Trudeau Institute is a nonprofit biomedical research center founded in 1884 by Dr. E.L. Trudeau. The Institute's fundamental research on immunity fosters the development of vaccines, treatments and cures for many life-threatening diseases, including cancer, tuberculosis and influenza. The Institute is supported by federal and state grants and contributions from individuals, private foundations and corporations. For further information about the Trudeau Institute, go to http://www.trudeauinstitute.org.
###