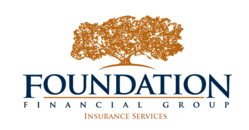 Jacksonville, Florida (PRWEB) October 03, 2012
With hurricane season here, many Americans will experience the wind, rain and anxiety the storms bring. Foundation Financial Group Vice President of the company's insurance affiliate, Kevin Alsup, discusses what the after effects will look like for affected homeowners and what they can do to prepare.
"The first thing a homeowner should do to prepare for a hurricane is to assemble an emergency kit complete with a family communications plan. Not all families are together when disaster strikes so it's a good idea to know how to contact one another," said Alsup. "The emergency kit should include canned food, bottled water, all essential medicines, and other supplies that the homeowner deems necessary. Should the homeowner need to evacuate at a moment's notice, they won't have time to shop for supplies, so an emergency kit should be assembled as soon as the threat is likely. It's also imperative that all important documents, such as identification documentation, financial documentation, and insurance policies are secure and easily accessible in the event of a rushed evacuation."
"Next, the homeowner should secure their property," Alsup stated. "Tape does not prevent windows from breaking so the homeowner should cover them with 5/8 inch or better marine plywood boards purchasable from any local hardware store. The retailer will cut them to the window specification so that they are ready to install. The best protection, however, is permanent storm shutters and installing them usually decreases your homeowner's insurance premium; the closer the home is to the coast, the greater the discount. Trees and shrubs near the home should be well trimmed so they are more wind resistant, and all clogged rain gutters should be cleared to allow for proper flow and to reduce water damage. Garage doors should be reinforced and additional clips or straps should be fasted over the roof and attached to the frame to avoid structural and roof damage. Any yard ornamentation including furniture, planters and anything that is not tied down should be brought in. If the vehicles do not fit in the garage, the homeowner should park any cars, trucks, or boats in an open space away from trees that could cause damage to the vehicle. If the vehicle is damaged while in the garage or carport, it is covered by the automobile insurance policy, not the homeowner's policy. The homeowner should consider purchasing a generator. Even if they lose power they will still be able to run basic appliances, like a refrigerator, to brave the storm. The homeowner should thoroughly read the user manual and should never operate the generator in an enclosed or unventilated area."
"Regardless of whether there is an immediate threat or not, the homeowner should always be familiar with their surroundings," informed Alsup. "They should learn the elevation levels of their property and whether flooding is probable. They should also identify levees and dams that could pose a threat and be aware of their community's evacuations routes."
"Even with these measures taken, after the storm takes its toll there may be property damage," advised Alsup. "If so, the homeowner should take extensive photos of the damage and not dispose of any damaged property until an insurance adjuster has reviewed the claim. To protect the property from further damage, the homeowner should make temporary repairs, or contract a professional to do so, and save all receipts for the claim. If the home is in poor condition and cannot be secured, the homeowner should remove personal property and find other lodging. Many insurance policies include reimbursement for storage costs incurred while the home is being repaired. The homeowner should keep record of expenses and all receipts. Homeowner's insurance policies generally provide limited coverage for expenses like: meals, hotel stay, rent, utility installation and transportation."
"When reporting a claim, be cognizant that most insurance companies have a time limit for filing a claim," said Alsup. "The claim process will be easier and quicker if the homeowner has access to their policy and a list of their home inventory. Once a claim is reported, the homeowner will be asked to list all items destroyed, damaged or missing."
"The homeowner's insurance company will send an adjuster to deduce the damage. It's important to never be rushed or pushed to agree on a settlement with the insurance company," Alsup advised. "If there are disagreements, the homeowner should try for resolution with their insurer, but if an agreement is impossible, the state insurance department can help the homeowner decide if mediation is an option. Once an agreement has been reached, the homeowner's claim distribution may come in several installments. The first will probably come as an emergency advance, should include additional living expenses, and should be payable to the homeowner. Installments for the home's structure may be payable to the homeowner and the lienholder, if the home is mortgaged, and the lienholder may place the money in escrow to pay for repairs in installments as the work is completed."
"Homeowners should complete thorough due diligence on the contractor they select to make the repairs," warned Alsup. "Unfortunately, there are people who take advantage of those affected by a disaster. Always ask for a written estimate prior to work being completed, never sign the estimate prior to the adjuster reviewing it and never pay the full amount for the work up front. If the contractor finds hidden damage that was not discovered by the adjuster, the homeowner should contact their insurance company to resolve the difference"
"Once the rebuild is complete and the home has been re-established, the homeowner should complete a home inventory and talk to their agent to ensure they are adequately covered," Alsup suggested.
To contact your state insurance department, go to http://map.naic.org.
Alsup has been in the insurance services industry for over 11 years and has helped thousands of customers find peace of mind through his vast understanding of the industry's ever changing products. He holds a finance degree from Troy University in Troy, Alabama. Alsup is an avid golfing enthusiast and he volunteers at many local charities such as St. Baldrick's Foundation, Life Rolls On, Second Harvest, and Boy Scouts of America.
About Foundation Financial Group
Foundation Financial Group is a multibillion dollar financial services corporation. FFG offers its customers Best in Class service through its Insurance, Retirement, Mortgage, and Tax Services. Named one of the fastest growing financial companies in the country by INC magazine, FFG has continued to grow its nationwide presence with over 100,000 new customers per year in 39 states. In addition to the value that Foundation Financial provides every customer, it is also dedicated to its communities and the people who live in them. Through a vast array of philanthropic endeavors the company not only provides significant monetary donations but also fosters a workforce environment that encourages all team members to personally make a difference. Foundation Financial is committed to its strong focus on customer service and community investment as it continues to grow and compete with the largest financial institutions in the world.
Foundation Financial Group reviews all public relations inquiries. For additional information, interview and image requests, contact the Foundation Financial Group Public Relations team at 866-659-3200.