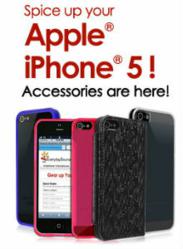 Customers are the center of our gadget universe. Now that they are entering the gravitational pull of the new iPhone 5, we are ready to equip them with an assortment of useful cases and accessories.
El Monte, CA (PRWEB) October 01, 2012
With the launch of the newest member of the Apple iPhone family, EverydaySource.com proudly presents new iPhone 5 compatible accessories.
"Customers are the center of our gadget universe," assured Jack Sheng, CEO of EverydaySource.com. "Now that they are entering the gravitational pull of the new iPhone 5, we are ready to equip them with an assortment of useful cases and accessories."
The attractiveness of the iPhone 5 is derived from several fascinating new features:
DESIGN
The iPhone 5 is thinner at 123.8 x 58.6 x 7.6 mm and lighter at 112 g. The front is a solid sheet of Corning Gorilla glass, while the back is an anodized aluminum plate, which gives it a sturdier build and a premium feel. The edges of the phone are smoother and polished.
DISPLAY
The device has a taller 4-inch capacitive touchscreen (16:9 ratio display) with an enhanced resolution of 1136 x 640 pixels, and a Retina display of 326 dots per inch that allows for one extra row of 4 apps. The larger screen optimizes the view of widescreen movies as well as HDTV programming. It also has wider keys on the keyboard when oriented horizontally. The screen has a longer scroll bar, along with a full screen view and a navigation overlay.
CAMERAS
The front-facing camera is a 1.2 MP FaceTime webcam for video-calling over Wi-Fi or 3G/4G with 720p at 30fps. The rear-facing camera is a 8 MP iSight camera with a protective sapphire crystal lens cover for taking sharper photos and video with 1080p at 30fps, and includes an LED flash or video light. Other features include simultaneous HD video and image recording (taking still photos while recording video), touch focus, geo-tagging, face detection, panorama mode, low-light mode, hybrid IR filter, five-element lens, a fast f/2.4 aperture, and FaceTime HD. Photo capture speed has been enhanced by 40 percent.
AUDIO
The new curved earphones have a noise-cancellation feature and fit deeper into the ear. The headphone jack has been moved to the bottom of the phone, where it is accompanied by larger speakers. There are now three microphones (front, back, and bottom).
BATTERY
The built-in rechargeable lithium-ion battery is projected to last eight hours of 3G talk time, 10 hours of Wi-Fi, 10 hours of video playback, 40 hours of music playback, or 225 hours of standby.
LIGHTNING DOCK
The Lightning dock is about a third of the size of the old dock (only 9-pin instead of 30-pin) and will be compatible with connectors from previous iPhones or iPads with the use of an adapter.
SOFTWARE
The device runs on iOS 6, and features Facebook integration, an Apple Maps app with 3D Flyover, a smarter Siri with new languages and territories, and a Passbook (digital wallet app that stores gift cards, boarding passes, tickets, and other documents).
MEMORY
It has an A6 processor, a 1GB RAM, built-in storage of 16GB, 32GB, or 64 GB, and a new nano-SIM card measuring 12.3 x 8.8 x 0.67 mm.
CONNECTIVITY
It includes faster 4G/LTE network connectivity, Wi-Fi, Bluetooth, and GPS, among others.
These features make the iPhone 5 an appealing communication, productivity, and entertainment tool for tech savvy users and gadget aficionados alike. A collection of practical and fashionable iPhone 5 compatible accessories can be found at EverydaySource.com.
EverydaySource.com prides itself as a one-stop-shop for quality electronics. Its product offerings include cell phone accessories, iPhone accessories, iPad accessories, HDMI cables, MP3 accessories, video game accessories, camera accessories, printer ink and toner, and much more. EverydaySource.com's daily specials and frequent site wide discounts make it easy for shoppers to save money, while enjoying a hassle-free shopping experience. The commitment to customer-centric service has lead EverydaySource.com to the #3 globally ranked eBay top-rated seller spot, backed by over 2 million positive feedbacks.