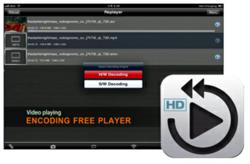 Replayer HD is an eloquently useful, practical, and seamlessly functional tool to view whatever users want to.
(PRWEB) October 16, 2012
OneMoreTimes, an innovative new mobile application and software developer, is excited to announce the launch of a newly updated version of Replayer HD onto the App Store. Compatible with all iPad devices, this unique mobile video player enables users to play video in formats that they'd usually be unable to access on their iOS device. Whether users want to play an MP4 file, a WMA file, or dozens of other niche formats, Replayer HD has them covered.
A large number of apps are already available in Apple's App Store that enable videos to play on smartphones or smart pads, but Replayer HD stands out with several unique features. With Replayer HD users're not only free to play back almost any video file they wish to, but free to willfully set various sections of video segments on repeat, control playback speeds, and more. They can even index extracted thumbnail files, transfer videos via SNS and email, and directly between various mobile devices wirelessly as well.
Replayer HD is an eloquently useful, practical, and seamlessly functional tool to view whatever users want to. Whether its utilizing closed captions, backing up files through iTunes, or playing back videos as a background applications, this is the essence of open audio visual experience. Users can even employ the app's innovative touch locking function when viewing videos to ensure that they don't impede on playback by accidentally touching their device's screen. Its time to watch video on iOS the way it was meant to be watched, and Replayer HD is the solution.
Simply put, this is new all-in-one video content utility on the go! Replayer HD is currently available for download on the App Store for $3.99 in the Entertainment category. A limited feature version of the application is also available for free in the same category.
About the Developer:
After graduating at Pohang University of Science and Technology(POSTECH), developer representing OneMoreTimes worked for Microsoft in Korea. OneMoreTimes is a Venture Enterprise which is interested in media solution such as sound source and video. OneMoreTimes is currently working on a audio player by starting with developing of video player and their team is keenly planning to expand a innovative search for media and selected service from now on.