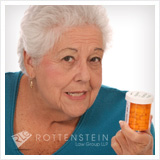 New York, NY (PRWEB) October 01, 2012
The parties in Boles v. Merck & Co., Inc. reached a confidential agreement on the amount of monetary damages to be paid by Merck to the estate of Shirley Boles—a woman who had successfully claimed that Merck's blockbuster drug Fosamax had caused her to develop osteonecrosis of the jaw—but the agreement is not, strictly speaking, an out-of-court settlement of the case.
Rochelle Rottenstein, principal of the Rottenstein Law Group, stresses that Ms. Boles, who, according to court documents, passed away in September 2011, had proved her case against the pharmaceutical giant. "The jury found for Ms. Boles," Rottenstein notes. "That jury awarded her $8 million in damages. The court, deeming that award to be excessive, gave the plaintiff the choice between a reduced award of $1.5 million and a new trial on damages. But Merck's wrongdoing and liability were proven as matters of fact and law."
Boles chose a retrial on damages, which was scheduled for September 10, 2012, then adjourned to September 18, 2012, according to court documents. The parties had been submitting to Judge Keenan of the United States District Court of the Southern District of New York motions regarding the evidence to be presented at the new damages trial. Early this month, plaintiff's counsel made an unopposed motion to substitute the estate of Ms. Boles (with her son James Hollon as personal representative) for Ms. Boles herself, whose death did not extinguish her cause of action against Merck, under to applicable Florida law. Ms. Boles was a Florida resident. The New York federal case is number 06-09455.
An agreement on the amount of damages to be paid by Merck to the estate of Ms. Boles means that no further trial will be necessary. It means as well that Merck can require, as it appears to have done, that the amount of damages to be paid will be kept confidential.
The Rottenstein Law Group urges anyone whose friend or relative has been prescribed Fosamax or another osteoporosis drug to reach out to that person and recommend that he or she consult a physician immediately and then speak to a qualified personal injury lawyer. The Rottenstein Law Group maintains a Fosamax Lawsuit Help Center at http://www.fosamax-lawsuit.net. The site has features that allow for easy sharing, including links for automatic posting on Facebook and Twitter, specifically to enable visitors to spread the word about the dangers of Fosamax. (Attorney advertising. Prior results do not guarantee a similar outcome.)
About THE ROTTENSTEIN LAW GROUP
The Rottenstein Law Group is a New York-based law firm that represents clients in mass tort actions. The firm was founded by Rochelle Rottenstein, who has more than two decades of experience as a lawyer, to represent clients in consumer product injury, mass tort, and class action lawsuits in a compassionate manner.
Contact:
The Rottenstein Law Group, LLP
Rochelle Rottenstein, Esq.
321 W. 44th Street
Suite 511
New York, New York 10036
(212) 933-9500 (office phone)
(212) 933-9980 (facsimile)
rochelle (at) rotlaw (dot) com
http://www.rotlaw.com