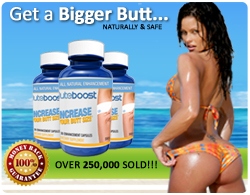 Give a man something to hold on to!
Hollywood, California (PRWEB) October 02, 2012
Gluteboost, a leader in buttock enhancement supplements announces that "a bigger butt is the new sexy for 2013."
According to Gluteboost customer testimonials, "getting a bigger butt is what women are now striving for. Women with bigger buttocks have become some of the most envied of the female race."
Owner of Gluteboost explains how "a decade ago, women were still searching for new ways to starve themselves in the name of weight loss. Very few celebrities, like J-Lo or Beyonce were proud of their big booties. Now there are a lot of women looking into how to get a bigger butt. Gluteboost's booty enhancement pill is the answer!"
In recent years, many celebrities have gained attention from the media and magazines for their backsides. Gluteboost explains that Kim Kardashian, Shakira, and Serena Williams are examples of well-known stars that have gained attention for having a bigger booty. August 2012 articles in The Huffington Post Style Section and Daily Mail Reporter U.S. Showbiz Section both confirm this media attention in the case of Kim Kardashian's Butt. Similarly, stars like Coco and Nicki Manaj have received media attention for their curvaceous figures. Gluteboost's butt enhancing pill is the solution for women searching for the way to imitate these famous stars and their voluptuous figures.
Gluteboost owner explains how "in 2012 looking healthy, having major curves, and giving a man something to hold onto is attractive."
According to journalists like Andrew Clark in his article in The Sun, "Men will always prefer a big J-Lo bottom".
Several articles in FHM Men's Magazine also reveal to readers that men prefer curves over stick figures.
Gluteboost owner explains how "there are many tricks and attempts to cheat your way to a bigger butt, however Gluteboost recognized that the only way to actually make your buttocks grow from the inside out without any fake padding or painful butt implants is to take a supplement that encourages growth specifically in the glutes. Gluteboost orders of butt enhancement pills are flying off the shelves. Customers are getting hooked on these pills because they truly are seeing results."
All-natural hormone boosters like Maca Root and Fenugreek are blended in Gluteboost to help anyone achieve a larger and attractive buttocks. Gluteboost plans to launch a buttocks enhancement cream in the near future. Testimonials and before and after pictures can be found on Gluteboost's website.
About GluteBoost
GluteBoost is an all natural formulation of herbal supplements designed to increase your glute size while trimming fat from unwanted areas. The Gluteboost product is made in FDA approved facilities with over 250,000 pills sold to date. Gluteboost embraces customer feedback, has top-rated customer service, and boasts a 100% satisfaction guarantee. For more information please call toll-free at 1-800-926-6787 or email jw(at)gluteboost.com .