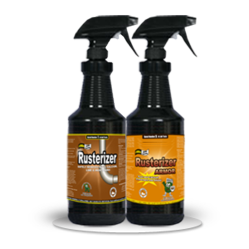 With Rusterizer, homeowners can now solve their rust problems all by themselves.
Seattle, WA (PRWEB) October 01, 2012
Rust removal presents a way to save items and structures from rust damages and stains. However, to manually do it requires a lot of time and work. And so to make the process easier and faster to complete, a rust remover is needed. Nonetheless, to also make the treatment safe, MyCleaningProducts developed a non-toxic rust spray it called Rusterizer. In addition to that, it decided to offer it with zero shipping charge for this month.
Take Advantage of Rusterizer's Free Shipping. Order the Non-Toxic Rust Remover Now
Clearing rust and its stain basically requires hard scrubbing. But often, the brushing further ruins the rusted materials. So to successfully get rid of the rust or its stain, it is better to employ the help of rust removal products.
The problem is that although most of the conventional rust removers can indeed clear rust and rust stains without damaging the materials they are applied on, many of them leave harmful chemical residues. And needless to say that jeopardizes the health of anybody who would come in contact with them or inhale them in. Allergies, headache and breathing difficulties are among the common health risks that they usually present.
However, if an organic-based rust remover is used, the rust removal process would be safer for human health and even the environment. And organic-based is what Rusterizer is, said MyCleaningProducts, its manufacturer. As such, it is therefore a better pick than any other chemical-based rust removal product.
Find Out All the Benefits Rusterizer Has to Offer
With Rusterizer, homeowners can now solve their rust problems all by themselves. And what's more is that they can get the job done effectively without risking their health and that of their family members. With the product, they can also save money as it is inexpensive. And given that it can be used on basically any rusted item or surface, there no need anymore to purchase various types of rust removal product for different materials.
Contractors can also benefit big from the use of Rusterizer. Effective as it is, the product can do the work of several employees hence, it can reduce rust removal cost. Also, as it is safe, it offers more benefits and makes a contractor's service even more appealing to clients. That promises big profit.
But more than those financial benefits to homeowners and contractors, MyCleaningProducts also just recently announced another. For this month, the company decided to offer its non-toxic rust removal product with zero shipping charges as a treat to its clients. And for those who would want to prove the product's worth first, it also opted to offer complimentary samples of the solution.
Test Rusterizer's Effectiveness. Get a Complimentary Sample of It Today