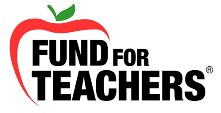 I grew as a teacher and a person...and broadened my perspectives on education, learning and life - all of which continue to shape and influence my classroom.
Houston, TX (PRWEB) October 01, 2012
Give us your motivated, your curious, your standardized test rebels yearning to learn free – these teachers make ideal candidates for Fund for Teachers fellowships.
A nonprofit dedicated to supporting and respecting teachers, Fund for Teachers awards grants to teachers who design, and during the summer, pursue their ideal professional development. The organization invites preK-12 teachers to consider what's missing in their teaching, to ask themselves "If I could just learn ______________, I would substantially impact my students' learning." By submitting the answers on an online application available today, teachers' could receive $5,000 per individual or $10,000 per teaching team to fund their odysseys.
"With my Fund for Teachers grant, I grew as a teacher and person," said Patricia Greenleaf, teacher at Alief Learning Center in Houston, TX. Patricia used her grant to study the influence of Galilei and Ptolemy on math and science at the Scientific Cultural Organization in Venice, the University of Padua, and in Rome. "I conversed with international curriculum writers, teachers and students, researched Italy's complex history, rode a subway for the first time, and broadened my perspectives on education, learning, and life – all of which continue to shape and influence my classroom."
Fund for Teachers puts virtually no limits on what teachers learn or where they learn it with the grants, trusting each teacher to best determine relevant learning gaps and/or student needs. Literacy workshops in one's hometown, robotics conferences in Tokyo and service learning projects in India merit equal consideration. Since 2001, 5,000 teachers have leveraged $18M in grants into fellowships in 124 countries on every continent.
"There's no way – with the state's budget shortfalls – that six of our teachers could have attended a reading/writing seminar in New York City without their Fund for Teachers grant," said Susanne Smith-Stein, principal at Arroyo West Active Learning Center in Moorpark, CA. "The teaching team's implementation of learned knowledge and skills they gained during their fellowship changed the lives of our teachers and their students."
Guidelines, eligibility requirements and tips for crafting a successful Fund for Teachers grant proposal are available at fundforteachers.org. Completed proposals are due by January 31, 2013 and teachers awarded grants will be notified by March 31, 2013. For more information, call 800.681.2667 or visit the organization's Tumblr or Facebook sites.
About Fund for Teachers
Fund for Teachers enriches the personal and professional growth of teachers by recognizing and supporting them as they pursue opportunities around the world that make the greatest impact on their practice, students and school community.