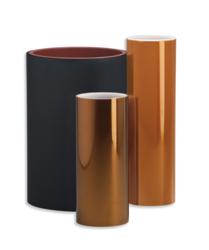 Heat resistant Polyonics battery tapes provide proven thermal management by insulating batteries from adjacent components and/or additional batteries.
Westmoreland, NH (PRWEB) October 16, 2012
Today's state of the art Li-Ion and Ni-Cd batteries provide high energy and capacity, but at the risk of low thermal run-away temperatures (<150C). Once in motion, a thermal runaway can produce flammable gases that can lead to fire and/or explosion as has been witnessed in the smart phone market. Thermal management is the key to helping reduce the chances of thermal runaway and optimal battery performance.
Heat resistant Polyonics battery tapes offer a proven, economical method to isolate batteries from external heat generated by adjacent components and/or additional batteries. The tapes are designed to survive prolonged high temperature exposure seen during electronic device operation as well as temperature cycling. They also provide permanent closures to battery cases while reducing the risk of fire. If a fire does occur, the halogen free, REACH and RoHS compliant tapes are flame retardant so they will not add fuel to the fire and thus not propagate it (see video above).
Battery Protection
Polyonics battery tapes help manage thermal issues in batteries in part because they remain dimensional stable at high temperatures (see chart second from top right). When a tape changes shape at elevated temperatures it can expose the battery to extreme heat thus risking reduced performance. Polyonics high temperature polyimide battery tapes offer a high degree of dimensional stability and maintain their original shape at temperatures up to 300°C. The ultra-thin tapes are available in amber or black polyimide (see image at right) and total construction thicknesses starting at <41µm.
Flame Retardant PSAs
The polyimide films incorporated in Polyonics tape constructions provide high strengths, low coefficients of thermal expansion and resistances to chemicals. But the film is only half of the equation. The design of the flame retardant adhesives (PSAs), in many regards, is even more important to the overall success of the tape especially when wrapped over tight radii as is the case for consumer smart phone and tablet batteries.
Polyonics formulates it high temperature PSAs using ThermoGard™ technologies that enhance the tapes ability to remain dimensionally stable over a wider range of temperatures. The acrylic fire retardant PSAs are available in a variety of thicknesses and strengths to best match the application and substrate. The tapes combine these unique PSAs with polyimide films to provide ideal adhesion for insulating and isolating batteries from high temperatures (see material comparisons chart third from top right).
Bonding
Polyimide double coated battery tapes provide non-mechanical means of attaching batteries to frames, chassis, etc. where preventing the propagation of fire is also required. The tapes provide strong, thin conformal bond lines and can be configured with a variety of PSAs deferentially coated on the top and bottom surfaces to optimize the bond adhesion to dissimilar surfaces (see illustration top right). The battery bonding tapes include liners that allow die cutting and auto application and can be selected to optimize each die cut process. This feature increases the precision of the bond, reduces waste and improves manufacturing and assembly inefficiencies.
Markets

Industrial: Aerospace, EV (electric vehicle), medical devices, storage, packs, hand tools, etc.
Consumer: Smart phones, tablets, laptops, games, monitors (TV), etc.
Applications

Thermal management
Insulate, isolate and wrap batteries to protect from external heat sources
Insulate battery electrical connectors
Bundle battery packs
Seal battery cases
Bonding

Non-mechanical attachment of batteries and components
High temperature bonding system that prevents the propagation of fire
Attaches batteries and components to chassis, frames, boards, etc.
Flame retardant

Helps prevents the propagation of fire
Adds no fuel to burn cycle
FlameGard Technology
Polyonics polyimide battery tapes incorporate FlameGard™technologies (see diagram bottom right) that include a variety of chemical mechanisms that help seal batteries to help prevent the escape of gasses. With exposure to high temperatures the tapes produce a char layer that helps prevent the propagation of flames. The PSA's are also antistatic to help ease tape die-cutting and installation while protecting batteries from possible ESD damage. The tapes are available in several thicknesses including <50 microns to fit even the most compact smart phone or tablet designs.
The tapes are tested for compliance to some of the most stringent industry flammability standards including UL94 VTM0, FAR 25.853 and BSS 7238.7239.