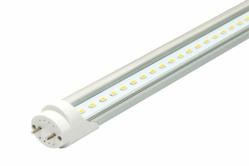 (PRWEB) October 05, 2012
Zhongtian Lighting, a leading supplier of LED light, today releases 18W T9 LED tube light [ZT-T0912-09618] with CE and RoHS approval. Its quality and lumens are improved by the advanced technology and experience of Zhongtian Lighting. It is widely used in Meeting rooms, restaurants, office buildings, factories, shopping malls, schools, airports, subway, station, garage, hotel, home, hospital, library and teaching buildings and other indoor lighting.
With Samsung LED chip, T9 tube delivers 2000-2200lm at only 18W consumption. It consumes only 18W and emits luminous intensity equivalent to a 40W halogen lamp. The lamps save 80% energy consumption and last up to 25 times longer. The technical specification is as following:
Model: ZT-T0912-09618A
Shade dimension: 26*1200mm
Rated power: 18w
Lamp beads: 96pcs
Housing material: PC+6063 Aluminum
Input voltage: 85-264VAC/DC,50-60Hz
Efficiency: 0.90
Luminous flux: 2100lm±100lm
Viewing angle: 120 degrees
Color rendering index: 75±5Ra
Color: Warm white/White/Cool white
Color temperature: (3000K-3500K),(3500K-4500K), (5500K-6500K)
Working temperature: -20℃ - 45 ℃
[email protected], [email protected], [email protected]
Luminous efficiency: >70lm/w
It is the ideal LED energy saving lamp due to its low power consumption, non-ultraviolet and infrared, low thermal radiation, high light efficiency and low attenuation. As AC converts to DC directly, it has high color rendering index without stroboscopic. As pioneers of the LED industry, Zhongtian Lighting knows that those certifications on their products will assist their end users in getting rebates, and will also prove that they provide quality lasting products.
On the other hand, Zhongtian Lighting is devoted to multiple its production line and improving the quality of product not only in lifespan but also in its appearance. The innovation and R&D is the crucial point of Zhongtian Lighting. Other products such as LED bulb, LED down light, LED flood light, LED high bay light are included in its production line, turning out Zhongtian Lighting is a comprehensive and specialized manufacturer. OEM and ODM service are also available.
For more information about Zhongtian Lighting and its products, please visit http://www.ztlights.com.