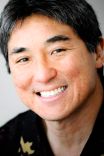 Don't worry, be crappy. Revolutionary means you ship and then test.
Tampa, FL (PRWEB) October 11, 2012
KnowledgeM and Celestar Corporation are pleased to announce Guy Kawasaki's pending arrival to Tampa Bay to speak at The Art of Innovation luncheon event.
The luncheon event will be held on February 28, 2013 at The Tampa Convention Center in downtown Tampa. The event will be directed towards entrepreneurs, marketers, and students, and will focus on bringing new life to businesses by setting new standards of excellence and changing the world.
Technology expert Kawasaki will deliver the keynote address. Bestselling author, Silicon Valley venture capitalist, and renowned blogger, Kawasaki played a critical role in marketing Apple's Macintosh computers during the company's success in the 1980s. After branching out on his own and founding several successful companies, Kawasaki returned to Apple in 1995 and was named an Apple Fellow.
Kawasaki will speak on The Art of Innovation, in which he lays out the strategic steps to create new products and services by calling upon his experience with Apple, as well as his study of dozens of world-class companies. A special VIP session will be held after his speech, including a book signing and photo op.
More information about the event as well as registration details can be found at http://www.knowledgem.com/innovate-tampa.
KnowledgeM is based in Tampa and dedicated to expanding the boundaries of social media and technology. KnowledgeM's passion is sharing knowledge to help others create, compete and improve.