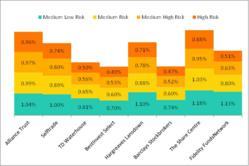 Statistics from our recent platform fee analysis are very enlightening. Unwary investors may find themselves paying more than double the best available option, when it comes to fees.
London, UK (PRWEB UK) 4 October 2012
InvestorBee, the free-to-use, independent website, which helps consumers make fact-driven investment decisions analysed the fees charged by eight of the largest UK investment platforms and found that consumers could spend almost double in annual fees if they did not adequately research platform fees before investing their money. Over 10 years, this could add up to an extra £1,030 in fees on a £11,280 (max ISA allowance) investment.
InvestorBee compared the Total Expense Ratio (TER), charged by the eight largest UK platforms, to invest the ISA allowance of £11,280 in each of four investments, based on different levels of risk.
Key findings are as below:

Platform fees vary significantly. Fig. 1 attached indicates the fees (in percentage measures of the total investment) that each of the platforms charge for trading in funds across four separate risk groups, assuming an initial investment of £11,280 (the current ISA maximum).
The widest disparity is seen in the high risk group, where consumers could be charged as much as 0.96% annually on one platform and as little as 0.47% on another. In real terms, if a consumer invested £11,280 in the two platforms in question, the annual fee difference between the two platforms would be approximately £55.
So, consumers could end up paying more than double on fees annually depending on their choice of platforms. Just to demonstrate how seriously consumers should take shopping around for the best fees, InvestorBee calculated the difference that fees could make at the end of a ten year investment. Assuming that a consumer has invested £11,280 in a medium-high risk strategy across two platforms that charge 0.5% and 1.0% in fees in 2012 - at the end of 10 years, the consumer could save almost £1030 if they chose to trade on the cheaper platform.
Looking at average fee structures when investing the ISA maximum, Alliance Trust and The Share Centre are the most expensive platforms to trade on. Since April 2012 (when InvestorBee analysed the fee structures last), they have become more expensive by 25 bps and 27 bps respectively.
BestInvest Select and Barclays Stockbrokers have remained on par with their fees since April 2012 and are the cheapest platforms for new customers to execute risk-based strategies when investing the ISA maximum.
Across all platforms, trading funds in the medium low risk category seemed to charge consumers more in terms of fees compared to trading with funds in the other risk categories, due to higher fees for global bond strategies.
Jonathan Hoar, VP, Consumer Products, InvestorBee, commented: "Statistics from our recent platform fee analysis are very enlightening. Unwary investors may find themselves paying more than double the best available option, when it comes to fees. With the implementation of RDR just around the corner, platforms, fund managers and IFAs will have to make their fee structures more transparent. This is the perfect time for consumers to arm themselves with information on how to invest wisely. A lack of awareness on the consumer's part, especially going forward, can lead to destruction of value in the money invested."
InvestorBee has supplemented their platform-fee analysis with a 'fees table' that defines the basic fees or charges that consumers can expect when trading over these eight investment platforms.
Hoar added: "InvestorBee is all about the consumer. To offer consumers a flavour of the types of fees they can expect from platforms, we have created a 'Platform Fees Table', which they will hopefully find useful. This is a useful starting point but fees will vary based on your specific preferences and choices, so we cannot overstate the need to shop around."
InvestorBee looked at the average Total Expense Ratio (TER) for the lowest cost passive components for each asset class in the InvestorBee risk-graded benchmarks on each platform*, and added the platform fee and any other relevant platform-related charges (e.g. initial charge, transaction charges, inactivity charges, rebates, etc.). The analysis assumes that the customer purchasing the strategy is a new customer and does not hold an account with the platform in question.
Click here to read more on the InvestorBee 'Platform Fees Table'.
*Each platform offers a different range of funds, so across each platform, the selected funds may differ for each strategy. All platform-related charges are sourced directly from the platform, online. All TER numbers sourced direct from the platform (or Financial Express if unavailable).
About InvestorBee:
InvestorBee, powered by DCisions and launched in December 2011, is a website that helps consumers make informed, fact-based decisions about their savings and investments. It analyses data from more than one million UK investors, over 30,000 financial products and over 1,000 sources of professional advice to track the results real investors are achieving. For more information on the site, visit http://www.investorbee.com.
For further information please contact: info (at) investorbee (dot) com.