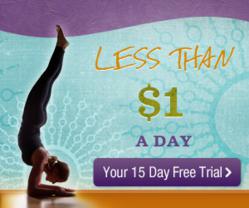 YogaVibes strives to create a yoga experience that is easy, highly accessible, and fun
Charlotte, NC (PRWEB) October 10, 2012
Experience yoga on the go with YogaVibes, a leading distributor of online yoga videos.
While users have always been able to access YogaVibes.com on a mobile device, the site is now optimized for mobile device viewing.
Now, access all optimized content – blogs, online yoga classes, and free online yoga videos – from smartphone and tablet devices. All content has been enhanced for viewing, fitting nicely in the viewing screen.
Conveniently and effortlessly take yoga to work, to the beach, to the park, on vacation, anywhere in the house, and beyond. Enjoy YogaVibes' vast collection of online yoga classes and free online yoga videos from the comfort of home or while out and about with any mobile device.

Online Yoga Classes - There are so many online yoga classes to choose from and YogaVibes is adding more all the time. Explore online Anusara, Vinyasa, Ashtanga, Core Fusion, Restorative, Kundalini, Yin Yoga, Meditation and Pranayama classes, and more right from a smartphone or tablet device.
Free Online Yoga Videos - Warrior what? Put my foot where? Sometimes yoga is just plain confusing. That's why YogaVibes created the Strike a Pose section to help users understand the nuts and bolts of each pose. Browse this super useful collection of free yoga videos for alignment tips, inspirational sequences, and secret yoga tricks! Find short meditation and breathing exercises for those times when the day could use a quick splash of calm. And yes, there is even instruction for the crazy pretzel poses. Enjoy access to this abundance of yoga instruction straight from any mobile device.
Blog - Regular readers of the YogaVibes Blog can now access and read content easily from their mobile devices. Read up on how to rock a yoga practice. Get yoga tips and tricks. Learn about new online yoga classes and free online yoga videos. Be the first to know about new deals. Discover how to explore YogaVibes' content in fun and unique ways.
YogaVibes strives to create a yoga experience that is easy, highly accessible, and fun! With the new and improved mobile viewing enhancement, users now have more opportunity to access and practice yoga anywhere, on their terms.
About YogaVibes
Looking for the best online yoga classes? Look no further! YogaVibes.com is an online realm for high-quality, authentic yoga classes and instructional videos captured in a real studio with real students. YogaVibes offers a diverse selection of classes from the best yoga teachers in the world, making learning and living yoga easy in everyday life. YogaVibes' mission: To create a supportive, challenging, and welcoming online community of passionate and inspiring yogis.