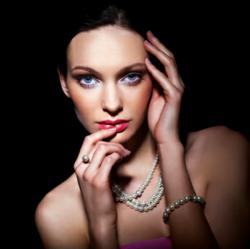 These are portraits of aristocratic women, evoking a strong allure with a clean, precise, defined aesthetic.
(PRWEB) October 02, 2012
Rodeo Drive Resale (http://www.shoprdr.com), premier reseller of 100% authentic designer handbags and fashions including discount Prada heels and Gucci tops, highlights two of its fashion favorites and a few of their pieces recently displayed during Milan Fashion Week, which took place Sept. 19 - 25.
PRADA: Prada hit the runway to showcase a unique pair of shoes that had a wooden, platform base and leather upper, stringed together with colorful ribbon. "Miuccia #Prada invents the foot glove," business news source Financial Times tweeted September 20. In addition to the eye-catching shoes, Italian designer Miuccia Prada unveiled her spring/summer 2013 collection, which featured large fur coats, flowery pieces, and satin skirts. Prada told fashion journal WWD her intention was to mix femininity with a bit of edge: "Toughness and the poetic part. I tried to mix them together, because this is mainly what women have to deal with in reality. The clothes are the expression of this impossible dream."
GUCCI: Gucci Spring/Summer 2013 collection by designer Frida Giannini wowed audience members and critics alike with its lineup of Japanese-inspired on September 19. "These are portraits of aristocratic women, evoking a strong allure with a clean, precise, defined aesthetic," Giannini said about the collection. The collection, which included pantsuits, pants, cocktail dresses and gowns, incorporated bold colors Giannini labeled "aristocratic purism."
Lovers of luxury footwear from such upscale fashion houses as Gucci and Prada are cordially invited to take part in the latest promotion from shoprdr.com. During their discount designer shoe deal, over 75 pairs of designer shoes including designer footwear by Louis Vuitton, Louboutin, Gucci, Yves Saint Laurent, Valentino and more. This event will be for a limited time only, so shoppers are encouraged to visit shopRDR.com today in order to take advantage of the great savings.
As with every item available through shopRDR.com, all shoes included in the sale are backed by a 100% money-back guarantee of authenticity. In addition to their sales, shopRDR.com offers one of the best deals on consignment in the business, paying up to 70% of the final selling price for handbags, shoes, jewelry, accessories and watches on consignment.
ShopRDR.com's discount designer shoe sale marks the fifth major promotion from the popular online reseller in the past two months, as shopRDR.com held both its Labor Day Weekend sale and its animal print campaign, "Walk On The Wild Side" last month. The successful Labor Day Weekend sale offered savings of up to 25% off all designer clothing and an additional 15% off all designer shoes with free shipping on orders of $200 or more, as well as 10% off all designer handbags, one of fashion's greatest investments, noted shopRDR.com co-founder Raya Jaffer: "Designer handbags typically do not go out of style, which is good because they can last for many years."
Rodeo Drive Resale (shopRDR.com) has built a reputation of providing amazing deals on handbags, clothing and accessories from the top designers of upscale fashion. The company offers a 100% guarantee of authenticity on each item sold, and works daily with a network of clients looking to buy, sell, or for consignment of their luxury goods. ShopRDR.com loves high-end fashion, and believes finding a high quality, classic piece should be an easy, enjoyable -- and most importantly -- hassle-free shopping experience. For the finest in Louis Vuitton, Chanel, Prada, Gucci, St. John Knits, Christian Louboutin, Tiffany & Co. and more, visit RDR online at http://www.shopRDR.com or call 1-888-697-3725. Also find shopRDR.com's blog at http://blog.shopRDR.com.
Also find shopRDR at:
Blog: blog.shopRDR.com
Facebook: facebook.com/shopRDR
Twitter: twitter.com/shopRDR
YouTube: youtube.com/ shopRDR
Pinterest: pinterest.com/shopRDR
Rodeo Drive Resale (shopRDR.com)
1-888-697-3725
service(at)shopRDR.com