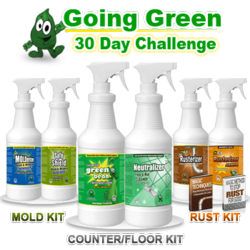 MCP assures that they[its non-toxic cleaners] are mean to the dirt and grime that they are supposed to eliminate.
(PRWEB) October 01, 2012
Cleaning products are supposed to help create an environment that protects human health. However, most of today's conventional cleaners put people's well-being at risk instead of preserving it. And primarily, that's because of the harsh chemical elements used to produce them. Aiming to provide the public safer yet still effective cleaning alternatives, MyCleaningProducts developed a line of cleaners made with natural ingredients.
Get MyCeaningProducts' Non-Toxic Cleaners Today for Free Shipping
With cleaning products, keeping a place appealing and clean is easier to manage. They make every cleaning task at hand faster to complete. Not to mention, they make the steps simpler to implement. And basically, that saves a lot of time and energy.
However, there is one problem. While it's true that commercial solutions are a great help to every homeowner and cleaning contractor, many of them pose great risks to health and even to the environment. The reasons are the strong chemicals that those cleaners contain.
Sure thing, those chemicals play a major part in making most of the conventional cleaners effective. Nonetheless, they also make them a danger to health as they bring with them several health risks. Hence, in a general perspective, they are not a real help as they can cause more problems and expenses instead of preventing them.
Still, there are some commercial cleaning products that can offer true help. And if any homeowner or contractor wants to get them, MyCleaningProducts said that its cleaners are the ones that consumers should purchase.
All made with natural ingredients, MCP's cleaning products offer a green means to keep a place clean. And because they contain no strong chemical ingredients, they also pose no risk to health and actually help reduce the pollutants released into the environment.
Discover How MCP Makes Its Cleaning Products Safe
But although MyCleaningProducts' cleaning solutions can be described as gentle to health and the planet, the company wants to clear any misconception that they are not as effective as chemical-based cleaners. MCP assures that they are mean to the dirt and grime that they are supposed to eliminate. It also said that its cleaners only difference from them is the absence of chemical elements.
Nonetheless, confident as the company is to its green cleaning products, it knows that to some consumers words are not enough. So to prove its claim that its cleaners are indeed green yet mean, it opted to give samples of them.
Among the specific brands of green cleaning products that MyCleaningProducts has to offer are Rusterizer for rust removal; Molderizer for mold remediation; Safe Shield for mold prevention; Bed Bug Bully for bed bug elimination; and Marble Maverick for marble care.
Get a Sample of MyCleaningProducts' Green Cleaners Today