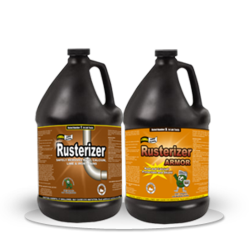 ...its[Rusterizer's] rust sprays are exactly the kind of solutions that one should purchase– safe and effective.
Seattle, WA (PRWEB) October 02, 2012
It is imperative to clear rust or its stain the first time it is seen. The reason is that it can spread fast and can leave the item it damaged completely useless. However, after the removal, prevention must then be implemented to prevent the same rust problems. And wanting to help make those two processes safe apart from effective, Rusterizer developed two non-toxic rust spray solutions: one for rust removal and the other for rust prevention.
See Rusterizer in Action. Get a Sample of It Today. Get a Sample of Them Today
Rust forms when iron metal reacts with oxygen in the presence of moisture. And because moisture is almost everywhere and so are items made of iron metal, rusting can occur in any place be that in a house or in a workplace. That fact also makes it difficult to block rust formation all the time. So basically, everyone is at risk of having to deal with rust presence.
But why it is important to clear rust? Well, there are structural and financial problems that rusting brings. It decreases the value of an item as it can make it look uncared for. It also weakens a structure which could result to accidents. Financially, it can also render an item useless. And as that could require replacement, it adds more to a person's expenses.
However, rust treatment is easier said than done. To complete it means to do a lot of scrubbings. And needless to say that takes up a lot of time and work.
With a rust removal product though, one can speed up the rust treatment process and make it easier to implement. But just any rust remover won't do. Rusterizer said rust sufferers should opt for a product that is safe apart from effective to get a true help. And as it claimed, its rust sprays are exactly the kind of solutions that one should purchase– safe and effective. Hence, it highly recommends the use of them.
Discover All the Benefits of Rusterizer and Rusterizer Armor
The company's spray for rust removal is also named as Rusterizer whereas the one for rust prevention is called Rusterizer Armor. Both of them were formulated using organic ingredients. Because of that, they leave no chemical residue that could pose a threat to health or even the environment. Given that, they make the safer choices than any chemical-based rust products, the company added.
Nonetheless, the rust sprays are not just for homeowners. A Rusterizer representative asserted that they also make a big help to rust contractors as they can serve as profit a booster. Because they are safe apart from effective, they offer clients more benefits. That makes a contractor's rust treatment service more attractive to clients, the rep explained.
Get the Non-Toxic Rust Sprays With Free Shipping. Order Them Now!