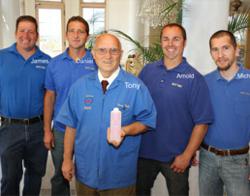 We use hot dry foam extraction on each of our clients carpets, which uses up to 100x less water than standard cleaning methods do. We want to provide our clients with a quality, thorough deep cleaning that they have never experienced before
San Diego, California (PRWEB) October 01, 2012
Tony Toth operates this business with his four sons Arnold, Michael, Daniel and James. Since they have been involved with Carpet Cleaning In San Diego, they have served thousands of clients in the area and have managed to get positive feedback from hundreds of satisfied customers that post their feedback on their website.
"We use hot dry foam extraction on each of our clients carpets, which uses up to 100x less water than standard cleaning methods do. We want to provide our clients with a quality, thorough deep cleaning that they have never experienced before and we are especially concerned about their health." says Tony Toth from Tony's Best Way. Many carpet cleaning methods can leave your carpet wet for days, but their special cleaning method is the dryest form of wet cleaning there is. They also wanted to focus on cleaning methods that were safe for children as well as environmentally friendly.
They even provide a bottle of magical spot remover for each client that they can keep and use to clean up any carpet stains as they occur. In addition they also offer Area Rug Cleaning, Drapery Cleaning, Leather Cleaning, Upholstery Cleaning, Fabric Cleaning, Stone Cleaning and Tile & Grout Cleaning. What separates Tony's Best Way from other San Diego Carpet Cleaners, is that they are willing to put their money where their mouth is figuratively speaking of course.
Tony's Best way uses their own proprietary cleaning method called the Health+ Clean method. The results of a Health+ Clean method cleaning far surpass the results you can expect from both Chem-Dry® and steam-cleaning. A small amount of hot water and cleaning solution is inserted into their cleaning machine, which generates hot, dry foam and applies it to the carpet. A continuously forward-propelling dense-bristle brush follows the foam and pushes it to the base of the carpet so that it covers the length of the fibers. Then it lifts the foam, now containing all the soil, sugar and oil left behind by common spills and use, back out where it is removed by the suction of the machine.
When the sugars and oils are not completely removed, like in Chem-Dry® and steam cleaning, they will continue to attract soil allowing existing stains to return quickly. The foam is gentle on the carpet but powerfully collects sugar, oil and soil in the fibers. This low moisture method, unlike steam-cleaning, eliminates the need for your carpet to be soaked to the pad, which causes the need for an extended drying period and leaves large amounts of chemical residue. Unlike Chem-Dry's® method, the foam works on all levels of the carpet removing the soil from the bottom up instead of forcing the topsoil down, which is stirred back to the top after a few weeks of normal wear.
The results of their revolutionary method, Health+ Clean, are not only visible to the naked eye but have a positive effect on your overall health. According to Dr. Edward Kenny of the York Research Laboratory, carpets and rugs test approximately 20 times more soiled than the average city sidewalk. In addition to their hot, dry foam being a great cleaner it is also an amazing Hypo-Oxygen sanitizer removing dust mites, dander, allergens and germs during the cleaning process. Their sanitizer is also non-toxic and biodegradable. A truly cleaned and sanitized floor means your environment will be a better place for optimum health.
Tony Toth believes that there are many "dime a dozen" cleaners out there, but not many who put good cleaning results and true value first. Tony's Best Way did not want to be forced to use minimum wage laborers or cheap methods and products to be able to compete with their cut-rate prices. Instead, they decided their niche in San Diego would be high quality cleaning that is truly worth the price. As the saying goes, "The bitterness of poor quality is remembered long after the sweetness of low price is forgotten...".
So they researched all the cleaning methods and other professional options available in their field. Then they went to school and learned. Tony and his 4 sons also attended many seminars and conventions. Throughout their information-gathering quest, they discussed their findings and often sat down to do their homework.
When customers are better informed about the cleaning results they can expect from one company and the results they can expect from a different company, they have the ability to better discern who is in the business to get the job done, and who will just call the job they do done.
Here are some tips from Tony that you should employ while your carpet is being cleaned and is still damp:
1.) Plan to have a nice dinner on the town. (Request your complementary $50 gift certificate when Tonys Best Way cleans the entire carpeting in your home)
2.) Minimize use of the carpeted areas as much as possible. You may walk, with clean shoes or white socks, along the edge of your carpet right away. In addition, they will leave you with disposable booties for this purpose.
3.) Take caution and avoid slipping on hard surfaced flooring surrounding the damp carpet.
4.) Place a large towel at the entryways and encourage everyone to wipe their feet in order to avoid soiling the carpet while it is damp and more susceptible to absorbing dirt.
5.) Do not remove furnishing guards or replace chairs and small items for at least 24 hours. Doing so could cause permanent furniture stains on your carpet.
6.) Open doors and windows as much as possible to increase air circulation for faster drying.
7.) Areas that were more heavily soiled will take longer to dry. Avoid usage of those areas as much as possible.
8.) You will receive their Spot Remover at no extra cost to treat any stains you may get on your carpet after cleaning.
For almost all of their different services, they can demonstrate the uniqueness and quality of the end results of their cleaning to their potential clients by cleaning a small area. Before you commit yourself, they can show overwhelmingly that their cleaning is the highest quality cleaning. Trustworthiness is more than worth it to spend the extra funds. If case you are not convinced after they clean a sample, they will leave without charging you anything.
You can reach Tony Toth and Tony's Best Way at 1-888-CARPET-CARE or 1-888-227-7382 to schedule a cleaning or visit their website for more information at http://www.tonysbestway.com.