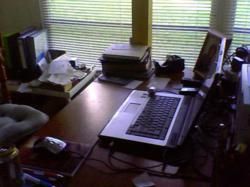 Everything will be viewed from a Christian world view
Port Charlotte, FL (PRWEB) October 17, 2012
As a result of his recent interviews on Ashford Talk Radio, author R Frederick Riddle has decided to get involved with his own talk show, The R Frederick Riddle Show. This hour long talk show will be aired at 6:00 pm every Monday beginning on October 22nd.
R Frederick, a Florida author, has this to say about his new venture, "The interviews gave me the opportunity to communicate with people, I would never reach otherwise, about events in the Bible. This new show will do that and more. As I look at it right now, I plan on dividing the show into four roughly equal segments, with one segment on Bible events and the other three on more recent news involving people, places, events, and topics. Of course, one of those segments will probably cover the election. I will, however, be flexible, allowing for fewer or more segments as the need arises.
"Briefly, it will be a news talk show where everything will be viewed from a Christian world view."
R Frederick Riddle is a Biblicist, former Sunday School teacher, author of four Christian novels, founder and editor of the Point of View newsletter, and blogger at Riddle's World. This new venture will also include interaction with his audience which he looks forward too, "I intend to allow people to call in. They can agree or disagree as long as they follow my rules, which can be summarized as 'no swearing, yelling, or antagonizing behavior.' I expect this to be both exciting and challenging, and, for my listeners, an informative experience."
The R Frederick Riddle Show will be available live at Blog Talk Radio through his website or you may hear shows after their initial airing at iTunes. He also plans on archiving his shows on his website so that people can access all previous shows that interest them. Listeners will be encouraged to email Mr. Riddle with their questions or comments with 'Riddle's Talk Radio' in the subject line.
About Us: R Frederick Riddle began his writing career in 2003 with his first novel Refuge. Since then he has written three more novels, built his own website where he sells his books at discount, and has taken advantage of Social media. He can be found on Twitter as AuthorRiddle and Facebook as RFrederickRiddle. For more about him, his books, blog, and newsletter visit him at his website.
Thank you for your time.