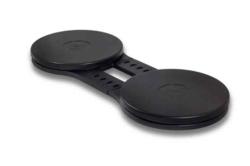 The 8board has brought back continuous, fluid movement and the ability to finesse my balance and keep me from stiffening up.
Carlsbad, CA (PRWEB) October 10, 2012
Grail Sports donated 8boards to help amputees regain balance and this new balance trainer proved to help above the knee amputees get big parts of their lives back. Grail Sports is proud to announce this exciting discovery. Even more happy about it is Linda. Here's her story.
Hi my name is Linda,
In 2011 my left leg was amputated above the knee. The goals of balance, strength and movement have been my on going challenges. I fell constantly, losing my balance when I would try to twist to do things as simple as closing a door or looking over my shoulder when someone called my name. My therapist helped me with improving my basic balance but I still had the problem of falling when a fluid movement was required.
The therapist introduced me to the 8Board. After just two times of using it I noticed a huge improvement! After two more times the falling problem was solved. I now have my own 8Board at home and use it twice a day, each time for just a few minutes. The 8Board has brought back continuous, fluid movement and the ability to finesse my balance and keep me from stiffening up.
I have been able to work in my garden again and I no longer loose my balance. I can close the car door and not fall. I can work in the kitchen and not fall.
All these things are easily taken for granted - I was not able to do any successfully without the 8Board.
Thank you Grail Sports from the bottom of my heart.
Linda Goulart
Carlsbad, CA
The patented 8Board is the only double-swivel, body coordination device available today. The 8 Board, made in the USA of ABS plastic is affordable, light-weight, portable and easy to use for anyone of any age.
By swiveling slowly side to side the user reestablishes balance and coordination almost instantly. It is useful for rehabilitation of knees, hips, back and shoulders. It has been purported to help people with chronic low back pain and even brain injury recovery.
"After a few weeks of working with the 8 Board, I found that I was hitting the (golf) ball further and more consistently than I had in years. More importantly, my back problems had greatly diminished to the point that I was able to play several times a week with little or no pain. It has been a year since I first started training using the 8Board, and I am enjoying golf more than I have in a long time." - Joe Ramos, Rancho Santa Fe
The 8Board is available at http://www.8board.com for 119.95 including free shipping in the U.S. It is the state of the art for all athletes and coaches wanting to excel in their sport. 8Board inventor Jack Broudy contends that the 8Board "is essential for any person who wants to feel connected to their body and the World around them. It is the key ingredient for anyone to feel centered and grounded."
8Board Training is beneficial for virtually all Sports, General Fitness and Rehabilitation. It is the contention of Grail Sports that body mechanics of the best athletes in the World begin at the core and transfer out to the arms and legs. The 8board is the only training device that can help anyone develop and engrain the proper figure 8 body rotation and dynamic balance with minimal daily use.