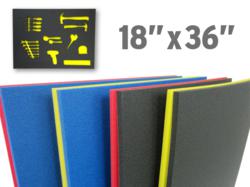 "We were able to create our own organizers for the tools we use in our workshop. We could never find the right organizer and tools were always getting lost but Creative Safety Supply gave us the solution we were looking for."
Lake Oswego, OR (PRWEB) October 01, 2012
No more wasting time looking for lost tools or wasting money by replacing lost tools. There is now new ways to organize tools to give each instrument a place in the tool box or drawer. The foam tool box organizer is now being offered through Creative Safety Supply as another great 5S product. The use of colors to visually differentiate tools and small items around the workstation is part of visual management of the 5s safety program. The foam tool box organizer is a great solution for stowing away tools after they have been used, saving time for future work.
Custom Foam Tool Kits (18"x36") is one of Creative Safety Supply's newest products that are now being offered. The 2 piece foam organizer is easy to cut to size as well as cut tool outlines from. The bright secondary foam (yellow or red) will show through the tool outline cut from the primary foam. The high contrast color draws awareness to missing tools. Even though it is easy to cut, it is also extremely durable and contamination resistant. Creative Safety Supply will also send a free sample for any business that wants to test it for ease-of-use and durability.
Additional thick foam can be purchased through Creative Safety Supply for making custom tool inset organizers for tool boxes, inside drawers or storage containers. The thick foam is great for organizing electric drills and with each foam kit, a long foam utility blade is included to make the job easier for cutting the customized organizer. A maintenance worker commented, "We were able to create our own organizers for the tools we use in our workshop. We could never find the right organizer and tools were always getting lost but Creative Safety Supply gave us the solution we were looking for."
Please visit http://www.creativesafetysupply.com or call toll-free (866)777-1360 for more information on foam organizers or other safety products that can make life in the workplace easier.