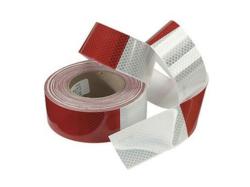 "We use to have a lot of accidents from workers falling off the docks but since the edges are now taped with the bright reflective tape, accidents have reduced to practically zero."
Lake Oswego, OR (PRWEB) October 01, 2012
Businesses that use vehicles for transportation of products can benefit from the use of DOT Truck Conspicuity tape that is DOT approved. By marking vehicles with this tape will far exceed NHTSA requirement. The red and white pattern occurs every 6 inches providing clear warning to oncoming motorists to help reduce unwarranted accidents. This product, now offered through 5stoday.com, is another great visual management tool for any 5s safety program. The highly reflective truck tape will surely keep vehicles visible. The tape is designed for rugged outdoor use on the sides and rear of trucks, trailers or other vehicles. Application is easy and will apply to all surfaces and with its aggressive adhesive, it will last a 7 year life.
"Really Brite" Reflective tape and "Neon Brite" Reflective tape are a couple more high visibility new products offered through 5stoday.com that are great solutions for night time reflectivity. The extremely fluorescent colors are also ideal for standing out in the light of the day. Both tapes have a long-term life cycle due to the aggressive adhesive backing and it will adhere to most any clean, dry and relatively flat surface. These tapes would be a great solution for marking off areas on a covered loading dock for truck pick up and deliveries at night and day. The use of these tapes can reduce accidents from workers falling off the dock or tripping down stairs. Vehicles backing up to the dock can visually see better so vehicular bumps and scratches are reduced. A factory dock worker commented, "We use to have a lot of accidents from workers falling off the docks but since the edges are now taped with the bright reflective tape, accidents have reduced to practically zero."
To learn more about reflective tape for vehicles and flat surfaces, please visit http://www.5stoday.com/ or call toll-free (866)402-4776 for answers to any questions about 5s products.