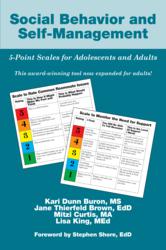 This book will prove invaluable to families and professionals working with young adults seeking to make their way in the world independently.
Overland Park, Kansas (PRWEB) October 01, 2012
When adolescents and young adults on the autism spectrum leave the protective environment of their home or familiar structure of school, it can be difficult for them to find ways to effectively address their support needs, especially with regard to social behavior and self-management.
Social Behavior and Self-Management: 5-Point Scales for Adolescents and Adults offers a new paradigm of employing the strengths of individuals on the autism spectrum to help them become more fluent in understanding and dealing with the social and emotional aspects of their lives. Logic and the ability to rank information are strengths that enable individuals with autism to better understand "grey" areas between two extremes and to rethink challenging behavior as it relates to social cognition and this is where use of the by-now classic 5-Point Scales comes in.
Formalized by two of the co-authors, Buron and Curtis, the original 5-Point Scales is here taken a step further and adapted to increase social understanding for both the individual with autism and the caregiver or support person. Specifically, accompanied by examples and vignettes of real-life use, 5-Point Scales are applied to a variety of social situations that are typical for adolescents and young adults, including friendships, dating, dealing with roommates, dorm behavior, emergencies and issues in the workplace. Throughout, sample forms are easily adapted to other situations, unique to a particular individual.
"As an ever-growing population of children on the autism spectrum ages up, so rises the urgent need to cultivate social competency across the lifespan. Expanding the use of the award-winning 5-Point Scale to support individuals in the adolescent and adult years is especially timely. This volume includes many practical and poignant examples to illustrate the application of this cutting-edge approach to address issues commonly faced by individuals with autism." – Pamela Wolfberg, PhD, professor, Autism Spectrum Program, San Francisco State University; director, Autism Institute on Peer Socialization and Play; Author of Play and Imagination in Children With Autism, Peer Play and the Autism Spectrum: The Art of Guiding Children's Socialization and Imagination; and co-editor of Learners on the Autism Spectrum: Preparing Highly Qualified Educators
About the Authors:
Kari Dunn Buron, MS, taught students on the autism spectrum for more than 30 years in K-12. She developed an autism spectrum disorders certificate program for educators at Hamline University in St. Paul, Minnesota, and has done volunteer work specific to autism in Trinidad, Barbados, Tanzania and Shana. Kari is the co-author of The Incredible 5-Point Scale and the author of When My Worries Get Too Big, A 5 Could Make Me Lose Control and A 5 is Against the Law! (2008 ASA Literary Award Winner). Buron is also the co-editor of a textbook for educators entitled, Learners on the Autism Spectrum: Preparing Highly-Qualified Educators (2009 ASA Literary Award Winner) and the creator of The Social Times, a social skills magazine (2010 Gold Winner, National Parenting Publications Award and Gold Medal Winner, Moonbeam Children's Book Awards).
Jane Thierfeld Brown, EdD, is director of student services at the University of Connecticut School of Law. She has worked in disability services for 33 years. Thierfeld Brown's main research interests are students with autism spectrum disorders in higher education and students with disabilities in high-stakes graduate programs. She consults with many institutions of higher education, as well as with parents and students on issues of students with autism spectrum disorders, and is a frequent keynote speaker at conferences. She co-authored Students With Asperger Syndrome: A Guide for College Personnel and The Parent's Guide to College for Students on the Autism Spectrum. Thierfeld Brown has three children, the youngest of whom is a 20-year-old son on the spectrum.
Mitzi Beth Curtis, MsEd, is an autism resource specialist currently working for Intermediate School District 287 in Minnesota and consulting with Minnesota Life College. Curtis has worked in special education, supported employment and residential programs for individuals with disabilities since 1978. Curtis' youngest sister, Maria, sent her on this journey with her birth in 1963.
Lisa King, MEd, is a co-director of College Autism Spectrum, an educational consulting company that provides training and guidance to colleges regarding best practices for working with students on the spectrum and their families as they transition to, through and beyond college. Additionally, King serves as an access consultant for St. Catherine University. King led a two-year pilot program at the University of Minnesota, implementing a new model of service: Strategic Education for Asperger Students. King co-authored The Parent's Guide to College for Students on the Autism Spectrum. King is a wife to Chris and a mother of Ian and Bryn.
About AAPC Publishing
Established in 1999, the mission of AAPC Publishing is to be the first source for practical solutions related to autism spectrum and related disorders. AAPC Publishing is an independent publisher, targeting professionals and parents alike. AAPC Publishing strives to offer publications at affordable prices so that important resources are available to anyone with an interest in the autism spectrum.
For media inquiries, please contact marketing(at)aapcpublishing(dot)net.