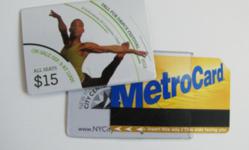 (PRWEB) October 10, 2012
Commuting and travelling from one place to another in a bustling city requires practical measures. Because of this, urban dwellers need to hold on to their transit passes and cards at all times. CardPrinting.us addresses this issue neatly by creating handy card holders for safe-keeping, and providing the desirable bonus of strategically placing an ad on them for people to see.
With the company's new innovative card holder, transit passes can now be encased in what can serve as miniature, portable billboards. Advertising any business, product, or service on a Card Printing metro card holder means more exposure for the thousands of people who take public transport every day.
Promoting special shows such as benefit concerts, ballets, musicals, fund raisers, and other theatrical presentations can also be done via the metro card holder. Imagine hours of commuting every day with passengers looking at these card holders for something to do during the trip. Any ad on a metro card holder definitely has more potential of becoming imprinted in the memory of any passenger in a more effective way compared to posters, billboards, and television commercials.
The metro card holder is the next big thing in advertising and promotional mileage. Card Printing is one of a select few printing companies to employ this innovation in its quality products.
CardPrinting.US is a part of the Tele-Pak CardPrinting.US Inc. family of web sites for plastic printing needs. Tele-Pak is located in Monsey, NY and has been a worldwide leader in the plastic printing industry since 1996, producing all kinds of plastic cards: gift cards, plastic key tags, scratch cards, phone cards, fundraising cards, membership cards, loyalty cards and point of sale activation (POSA) cards. Corporate information can be found at http://www.tele-pak.com.