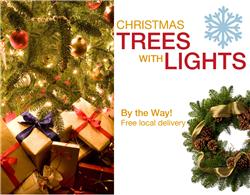 Pre-lit Christmas trees will not be sold after October 31st, 2012.
Metairie, LA (PRWEB) October 02, 2012
For the past few years The Garden Gates has done something that no one else in the New Orleans area can do - sell pre-lit Christmas trees that are delivered straight to customers' doors. This complicated feat is made possible by The Garden Gates' talented and organized team, and it keeps the customers coming back for more each year.
Strands of Christmas tree lights are now in limited supply, therefore limiting the number of pre-lit trees sold this year. The Garden Gates will not sell Christmas trees with lights after October 31st, 2012 but will continue to sell regular Fraser Fir Christmas trees until Christmas Eve.
Each year The Garden Gates delivers beautiful Fraser Fir Christmas trees to its customers in the New Orleans area for no additional cost. The process is easy, and it alleviates some of the stress of the holiday season. Customers can order their Christmas trees online, over the phone or in the shop. Upon checkout, they will indicate what day they want their Christmas tree delivered and what time frame is preferable - morning, early afternoon or late afternoon. During the holiday season, The Garden Gates delivers Christmas trees from 8am to 6pm 7 days a week to New Orleans and Metairie.
To reserve a pre-lit Christmas tree, visit The Garden Gates' website. Explore the different sizes of Christmas trees, as well as holiday greenery, Christmas home decor and holiday gifts. Let the beautiful ornaments, wreaths and poinsettias inspire a beautiful Christmas scene to enjoy this year.
About The Garden Gates:
Founded by Jacqueline Elizabeth Kendall-Harris and Chad Harris in 1999. Jacqueline plays an instrumental role in product development, interior design and the developing the core principles of The Garden Gates lifestyle. Chad plays an instrumental role in the creativity of the brand, marketing and technology of the business.