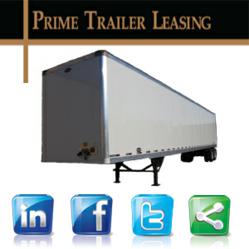 Relationships Matter
Denver, Colorado (PRWEB) October 05, 2012
Prime Trailer Leasing is more than just Semi Trailer Sales. Prime Trailer Leasing also has a passion for relationships. "Relationships Matter" is stated on business cards, in the Vision Statement, around the facilities, on the web site – it's all over. But the important part is that it's lived out in the lives of Prime's owner and all it employees. This is not an empty promise or mere words in plans that are shelved. Prime has implemented many "Relationship" programs down through the years, with the most recent one being led by Director of Sales, Mike Sindelar.
As part of "Prime Days" – the company's Community Development and Outreach Program that provides every employee a paid day to go out and make a difference where they can in the community, Mike chose to support Life Choices – a non-profit organization in Longmont, Colorado. Mike and two other Prime employees recently visited Life Choices facility in Longmont and delivered a $2000 check raised by the employees and matched by the owner of Prime, Wes Gardner.
Mike stated about the visit, "I began by sharing my story about how the program really struck a nerve with me when my church was asking for our congregation's support for this program and how I incorporated it into Prime's community involvement outreach. Connie actually cried when we told her the amount that we raised for her center. It was a very powerful moment and she immediately told us how dedicated she is to the invaluable services this organization offers to the community."
Life Choices is a 501(c)(3) charitable, non-profit organization, funded primarily by the generosity of compassionate and concerned individuals, businesses and churches in Colorado communities.
An excerpt from Life Choices Website - Life Choices exists to share the love of Jesus Christ by providing help with unplanned pregnancies, healing from post abortion stress and by providing education about sexual life choices. By helping young people understand the facts about their sexual life choices, we encourage them to abstain from pre-marital sex, drugs and alcohol. We emphasize the great value of each individual through the fulfilling love of Jesus Christ.
Prime Trailer Leasing is a "Community-Focused" business located in Denver, Colorado with locations in Salt Lake City, Utah and Reno, Nevada. Prime Trailer rents, leases and buys and sells semi-trailers to businesses within the Rocky Mountain Region and across the nation. The Semi-Trailer business is great, but as Prime's Vision Statement says, "Our desire for Prime Trailer Leasing is to apply our transportation services, hard work and experience to build lifetime relationships in order to serve people, strengthen our communities and grow our business." - Life Choices agrees!