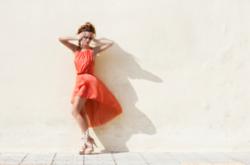 The force of modernity is constructed upon a legacy of great tradition.
(PRWEB) October 05, 2012
Rodeo Drive Resale (http://www.shoprdr.com), premier reseller of 100% authentic discount Ferragamo shoes, Armani heels, Prada bags, Louis Vuitton wallets, and other high end fashions, takes a look back at a few interesting moments at this year's Milan Fashion Week, which took place Sept. 19 - 25.
ARMANI SHINES: The Armani spring-summer 2013 collection, as usual, was in a class of its own during Milan Fashion Week: Featuring zero prints but plenty of glitter and glam, the Armani runway show proved to be one of the most dazzling displays at MFW. With tennis superstar Serena Williams in tow, fans of the iconic fashion house were treated to sights of sleek silk suits and shimmering dresses. "The sparkle is accentuated for the evening, with a constellation of stars on a navy blue background,'' the label announced in its program notes.
FERRAGAMO DISPLAYS CLASSIC STYLE: The influential fashion house founded by Italian shoe visionary Salvatore Ferragamo opted for a more traditional fare in terms of design. Showcasing an impressive collection dresses, skirts, and leather and suede trench coats, Ferragamo's Day 5 runway presentation during Milan Fashion Week proved to be worth the wait. "The force of modernity is constructed upon a legacy of great tradition," the show's program notes said. From the label's ready-to-wear collection, standout pieces included over-the-knee boots, sandals, and snakeskin pants.
Lovers of luxury footwear from such upscale fashion houses as Armani and Ferragamo are cordially invited to take part in the latest promotion from shoprdr.com. During their discount designer shoe deal, over 75 pairs of designer shoes including designer footwear by Louis Vuitton, Louboutin, Gucci, Yves Saint Laurent, Valentino and many more. This event will be for a limited time only, so shoppers are encouraged to visit shopRDR.com as soon as possible in order to take advantage of the great savings.
As with every item available through shopRDR.com, all shoes included in the sale are backed by a 100% money-back guarantee of authenticity. In addition to their sales, shopRDR.com offers one of the best deals on consignment in the business, paying up to 70% of the final selling price for handbags, shoes, jewelry, accessories and watches on consignment.
ShopRDR.com's discount designer shoe sale marks the fifth major promotion from the popular online reseller in the past two months, as shopRDR.com held both its Labor Day Weekend sale and its animal print campaign, "Walk On The Wild Side" last month. The successful Labor Day Weekend sale offered savings of up to 25% off all designer clothing and an additional 15% off all designer shoes with free shipping on orders of $200 or more, as well as 10% off all designer handbags, one of fashion's greatest investments, noted shopRDR.com co-founder Raya Jaffer: "Designer handbags typically do not go out of style, which is good because they can last for many years."
Rodeo Drive Resale (shopRDR.com) has built a reputation of providing amazing deals on handbags, clothing and accessories from the top designers of upscale fashion. The company offers a 100% guarantee of authenticity on each item sold, and works daily with a network of clients looking to buy, sell, or for consignment of their luxury goods.
ShopRDR.com loves high-end fashion, and believes finding a high quality, classic piece should be an easy, enjoyable -- and most importantly -- hassle-free shopping experience. For the finest in Louis Vuitton, Chanel, Prada, Gucci, St. John Knits, Christian Louboutin, Tiffany & Co. and more, visit RDR online at http://www.shopRDR.com or call 1-888-697-3725. Also find shopRDR.com's blog at http://blog.shopRDR.com.
Also find shopRDR at:
Blog: blog.shopRDR.com
Facebook: facebook.com/shopRDR
Twitter: twitter.com/shopRDR
YouTube: youtube.com/ shopRDRPinterest: pinterest.com/shopRDR
Rodeo Drive Resale (shopRDR.com)
1-888-697-3725
service(at)shopRDR.com