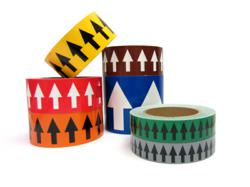 "The free pipe marking guide that was provided to us was very helpful with teaching us the proper way of marking our pipes. We are very satisfied with the quality of the labels and the ease of application made getting the job done quickly."
Lake Oswego, OR (PRWEB) October 02, 2012
Pipe Marking Arrow Tape is part of Creative Safety Supply's newest product among the variety of pipe labels offered. The tape provides directional flow arrows that will easily and effectively mark the flow direction of whatever liquid is inside the pipe. Employees and repair service people will be able to notice at a distance in what direction the liquid or gas is flowing making any repairs that need to be done safely and quickly. The tape comes in several different colors with contrasting arrows that meet the ANSI safety color chart and also complies with ANSI/ASME standard pipe markings.
This product is another great tool for any 5s safety program by effectively communicating contents and flow of pipes. Pipe marking labels are the most efficient way to differentiate what liquid is in the pipe and in which flow direction it is going. The simple quick-reference quality of the labels and the clear, concise graphics on the label make it easy to identify the pipe from a distance. In order to help businesses choose the correct color, size and placement for pipe labeling, Creative Safety Supply provides a free pipe marking guide. The guide will provide everything that a business needs to know about marking pipes in the facility. The color coded chart inside the guide will provide guidance through the compliance process for OSHA and ANSI standards. A safety coordinator of a new business commented, "The free pipe marking guide that was provided to us was very helpful with teaching us the proper way of marking our pipes. We are very satisfied with the quality of the labels and the ease of application made getting the job done quickly."
Please visit http://www.creativesafetysupply.com or call toll-free (866)777-1360 to learn more about pipe marking labels or any safety product that is required to run a business efficiently and affordably.