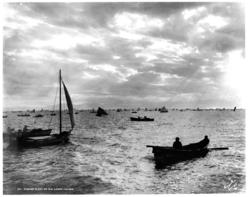 People once believed that Pacific Northwest salmon populations were so abundant they could never be depleted, says a professor at Linfield College in Oregon.
McMINNVILLE, Ore. (PRWEB) October 03, 2012
The waters off the coast of Washington state and British Columbia were once filled with fish pirates and border bandits vying for salmon, according to a new book by Linfield College Professor Lissa Wadewitz.
The Nature of Borders: Salmon, Boundaries, and Bandits on the Salish Sea documents how fishing practices in the late 19th and early 20th centuries turned the boundary waters into a lawless Wild West.
When the neighboring countries of the U.S. and Canada established their shared border, no one told the salmon. Driven by instinct, the iconic fish of the Pacific Northwest migrated straight across the border, drawn to historical spawning grounds.
In the competition for salmon that ensued, Wadewitz says pirates smuggled fish across the border and international mistrust mounted as Americans arrested Canadians, Canadians seized American boats, and violence erupted among fishermen. Fierce infighting over resources meant that overfishing and wastefulness went unchecked.
The U.S.-Canadian border at the 49th parallel overrode the environmentally-sensitive boundaries drawn by Native Americans, which had largely protected runs from overfishing for thousands of years. The imposition of the new international border in the mid-19th century and the rise of the industrial canned salmon industry in the late 1800s and early 1900s made it increasingly difficult for Native peoples to continue to fish in their traditional locations. And industrial fishing further accelerated the demise of the once-plentiful sockeye and pink salmon runs.
The arbitrary border contributed to transnational competition that resulted in the decline of the beleaguered salmon and a sharp drop-off in the economic value of the industry, Wadewitz said. Ultimately, these conditions led to a joint U.S.-Canadian fishery management treaty in 1937.
"Pollution, dams, irrigation practices and now, fish farming, have continued to take a toll on salmon habitat," said the Linfield College professor. "Ironically, recent fishery conservation practices that show promise increasingly mirror Native American management practices from the distant past.
"People once believed that Pacific Northwest salmon populations were so abundant they could never be depleted," Wadewitz said. "We now know they can be. Still, the history of the Pacific Northwest fishery shows us that despite many missteps along the way, there are lessons here. Sustainable management is still possible. Whether we will heed these lessons remains to be seen."
The Nature of Borders was co-published by the University of Washington Press and the University of British Columbia Press in Vancouver, Canada.
Wadewitz is a professor of history and environmental studies at Linfield College in Oregon. Linfield is dedicated exclusively to undergraduate education, offering degrees in arts, sciences and professional programs. The small college was named one of the nation's top picks for high school counselors across the U.S. and has been nationally praised for combining affordability and excellence.