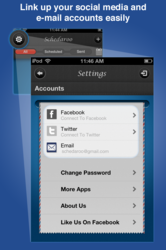 Let Schedaroo be your social media and email-messaging assistant!
Singapore (PRWEB) October 05, 2012
Schedaroo is an iPhone app which serves as a social media and email-messaging assistant. Finding the appropriate time to engage with Facebook friends, followers or fans can be a challenge especially since the world of social media sees no time zone difference. With Schedaroo, messages can be scheduled to desired timings and the social media clutter of users is more organized.
Schedaroo gives users the option to post the message via Facebook (personal wall, friend's wall or Facebook page), Twitter or email. The simple and sleek looking user interface appeals to all age groups and all it takes is three simple steps to send future messages automatically. After typing the desired message or attaching the desired image, users will need to choose which platform they would like to post the message or image to. Thereafter, the user will need to choose the desired time and they will receive a push notification went Schedaroo is sent. Future updates will include more social media platforms like Pinterest and LinkedIn.
The minimum requirements for Schedaroo is an iPhone or iTouch with OS5.0 or later. Schedaroo is retailing at $0.99 USD (or equivalent amount in other currencies) and available worldwide exclusively through the App Store in the Utilities category.
Located in Singapore, edenpod was born in 2010 and prides itself in only building original iPhone applications and games. Our launched titles like our most recent game, BetterLetter, won an Honorable Mention in 2011 Best App Ever Awards. Our productivity app, MeetupTime has been featured in New and Noteworthy in the Apple App Store and our first game, NewtonApples has won over reviewers and leading iPhone app websites or blogs like 148apps.com amongst others.