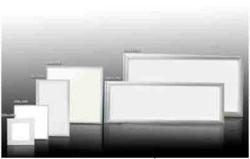 (PRWEB) October 08, 2012
Zhongtian Lighting, an outstanding and experienced manufacturer of LED products in China, has launched the [ZT-P3012-39EAD] LED Panel Light with a dimmable driver, another excellent addition to the popular range of LED lighting products.
The dimension of this 30W LED panel light is 300*1200*12mm, looking simple but fashionable, which is an ideal substitute for a conventional lamp. Due to advanced technology, the LED panel light has improved a lot. The high quality LEDs and good heat dissipation device give rise to its long lifespan and stable performance. On the other hand, it reduces the energy and electricity consumption as well as maintenance costs. The model of [ZT-P3012-39EAD]LED panel light has a wide application in the places where require dimmable illumination and could save energy as much as possible.
The panel light uses SMD 3528 chip with 372pcs LEDs, which deliver 2605lm. It is used for all interior lighting applications, such as hospitals, airports, offices, supermarkets, stores, and most other commercial, and retail locations. Besides, its lightweight makes it easy to transport and install. It can be installed either on wall or upon the ceiling.
Three color variants are available. The warm white [ZT-P3012-39EAD] panel fills internal spaces with warm bright illumination with a color temperature of 3000K and a Color Rendering Index (CRI) of 80. The natural white [ZT-P3012-39EAD] provides balanced natural illumination at 4000K with a Color Rendering Index (CRI) of 80. The cool white [ZT-P3012-39EAD] achieves maximum luminous efficiency of 66 lumens per watt with its cool 5500K illumination and a CRI of 70 or higher.
This product does not contain mercury or other hazardous chemicals. Zhongtian Lighting manufactures the good quality products to meet customers' need. The [ZT-P3012-39EAD] does not emit harmful UV or IR radiation, making it far more eco-friendly than traditional lighting fixtures and technologies.
Combined with other products such as LED tube,LED spot light, LED down light and LED ceiling light, Zhongtian Lighting's products can give customer more opportunity to choose the light to decorate their rooms to a large extent. All its products with 3 years warranty and customized service is available as well.
For more details, please visit http://www.ztlights.com/LED-Panel-Light.html.