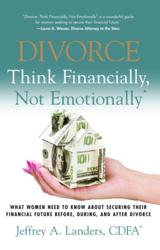 . . . a wonderful guide for women seeking to secure their financial future.
San Clemente, CA (PRWEB) October 02, 2012
One in four women has experienced domestic violence in her lifetime, and researchers estimate that in the U.S., more than five million women are physically abused by their husbands or boyfriends each year.(1) Unfortunately, breaking free from an abusive marriage can be tremendously difficult. Not only do abused women live in constant fear, but they also typically feel powerless because they know so little about their family finances or how to establish financial independence.
Jeffrey A. Landers, founder of Bedrock Divorce Advisors, LLC, wants to change all that. In his new book, Divorce: Think Financially, Not Emotionally, Landers offers women the tools they need to emerge from divorce with their finances intact and their financial future secure. As Landers explains, these tools can be particularly empowering for women in abusive marriages.
"We all know that even under the best of circumstances, divorce is complicated and emotionally trying. For women in abusive marriages, however, the process is exponentially harder--and proceeding safely is absolutely essential," Landers says. "These women, and all divorcing women, need to empower themselves with knowledge. They need to learn how to protect their assets as they put the pieces in place for a secure financial future."
In Divorce: Think Financially, Not Emotionally, Landers helps women navigate the difficult divorce terrain by offering practical, step-by-step advice on a wide range of topics, including how to:

Build a top-notch divorce team
Organize financial documents
Protect businesses, intellectual property, and personal assets
Determine if a husband is hiding assets
Manage pension plans, 401Ks, and other retirement accounts
Negotiate alimony
Disinherit a husband
Landers is donating 50% of all profits from his book to the Bedrock Divorce Fund for Abused Women, Inc., a new 501(c)(3) nonprofit charity he recently launched to help female victims of domestic abuse and the organizations that support them.
"Over the years, I've worked with many women who, at the time, were in physically and/or mentally abusive relationships," Landers says. "I've seen how these relationships can leave women feeling trapped emotionally and financially, and I've seen how all that can change once they take steps to secure their financial future."
Early reviewers are praising the no-nonsense advice Divorce: Think Financially, Not Emotionally offers:
"I wholeheartedly applaud Jeff's efforts to support women in abusive situations," says syndicated columnist Liz Smith.
"Divorce: Think Financially, Not Emotionally is a wonderful guide for women seeking to secure their financial future," says renowned divorce attorney Laura A. Wasser, whose client list includes Heidi Klum, Angelina Jolie, Christina Aguilera, and other celebrities.
"I wish I had this book when I was going through my divorce. It would have made the learning curve much less steep! Knowing Jeffrey's expertise, any woman, whether going through a divorce or not, can benefit from this book," says Sonja Morgan, star of Real Housewives of New York.
"Breaking free from an abusive marriage isn't easy, but a woman can shore up her financial position and enter the divorce process empowered with information and backed by right team," Landers concludes.
Divorce: Think Financially, Not Emotionally is available at Amazon.com and bedrockdivorce.com. It can also be downloaded on Kindle and Nook. Jeffrey Landers can be reached for consultation or interview at landers (at) bedrockdivorceadvisors (dot) com.
About the Author
Jeffrey A. Landers is a Certified Divorce Financial Analyst (CDFA) with more than three decades of financial experience. He founded Bedrock Divorce Advisors in early 2010 and works exclusively with women throughout the United States.
A well-respected authority on the topic of divorce, Jeff writes the weekly "Divorce Dollars and Sense" blog for Forbes.com and has authored multiple articles for The Huffington Post, More.com, Lawyers.com, and many other publications. In addition, Jeff has served as an expert source regarding the financial impact of divorce on women for CBS TV News, the Wall Street Journal, Dow Jones, Smart Money, Forbes.com, Inc.com, Enterprising Women magazine, and others. He was also a member of the advisory board of Enterprising Women, a magazine devoted to women business owners.
Complementing his CDFA, Jeff also holds the Chartered Retirement Planning Counselor® (CRPC) designation and is the founder of Bedrock Divorce Advisors' sister firm, Bedrock Wealth Management, LLC, which provides post-divorce retirement planning, asset protection, investment services, insurance, college tuition planning, and more to help ensure each woman's divorce settlement lasts as long as possible while she achieves her personal goals.
Jeff earned a bachelor's degree in psychology from Columbia University, and he studied law at Pace University School of Law before joining Wells Fargo Advisors, where he helped women undergoing financially complex divorces.
1. U.S. Department of Health and Human Services Office on Women's Health, http://womenshealth.gov/violence-against-women/types-of-violence/domestic-intimate-partner-violence.cfm.