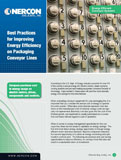 Oshkosh, Wisconsin (PRWEB) October 15, 2012
Nercon Engineering, a designer and manufacture of packaging and process conveyor systems, recently published a new white paper, "Best Practices for Improving Energy Efficiency on Packaging Conveyor Lines."
The paper recommends minimum actions to take that will make a large impact on energy usage for packaging conveyor lines, such as:

Proper use of motors
Energy efficient motors and gear reducers
Energy monitoring and reporting
Use of controls to manage energy states and usage
Project engineers, production supervisors and plant or operations managers will benefit from cost comparisons and energy reduction guidelines in the editorial.
Click here to download, "Best Practices for Improving Energy Efficiency on Packaging Conveyor Lines."
Nercon provides product handling solutions for food and consumer goods manufacturers. Engineering specialists deliver conveyor equipment and controls solutions to solve manufacturing challenges and objectives, from OEE and equipment sanitation to reducing energy costs and maximizing capacity.
For more information about Nercon Eng. & Mfg., Inc., visit http://www.nercon.com.