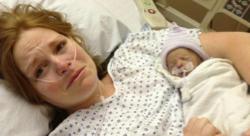 Colorado Springs, CO (PRWEB) October 01, 2012
Since beginning her quest for justice last month in the drunken driving case that cost the life of her unborn son, Dimitri, Aileen Smith has gathered over 2,500 signatures on Change.org and support from New Mexico's Governor.
The deadly crash which occurred in June in the state of New Mexico, was caused by a drunk driver who had four prior DWI convictions. Thanks to Ms. Smith's willingness to speak out about her tragic loss the case is picking up national attention and bringing New Mexico's soft DWI laws, and lack of consistent enforcement, to the forefront.
NATIONAL AND STATE-WIDE PROGRESS
Not only have Smith and her husband, Zach, garnered more than 2,500 signatures on Change.org, but the couple will also:

Speak in the fall on the New Mexico Senate Floor in support of new DWI enforcement laws
Named to the team in the state's forum to re-write DWI enforcement laws
Told their story on CNN and Associated Press
Working with MADD (both national and the New Mexico chapter)
SUPPORT FROM THE GOVERNOR OF NEW MEXICO
It's reported that in New Mexico, 40% of auto crashes are caused by drunk driving and 60% of the time – it's a repeat offender. Even the Governor of New Mexico, Susana Martinez, has joined the cause in calling for more meaningful consequences for drunk drivers. Governor Martinez, who spent two years bringing bills regarding the matter to the state legislature, office had this to say about Zach and Aileen Smith's pursuit for change:
"The Smith family - and any others who have had their lives overturned by a repeat drunk driver - have no stronger ally than Governor Martinez," received in a written statement from the Governor's office.
THE PRICE OF SHARING THE ROAD WITH DRUNK DRIVERS
Smith was seven months pregnant when she and her husband were T-boned in northern New Mexico. The crash caused the young mother's water to break, forcing an emergency c-section after which the couple's baby, Dimitri, passed away within seconds. Due to the surgery to deliver Dimitri, Smith was not awake to see her son alive.
HOW YOU CAN HELP
"From what I understand, there aren't really any meaningful consequences for drunk drivers in New Mexico until they get up to seven DWIs," Aileen Smith said. "We want justice for our son, so we started a petition to change New Mexico's enforcement laws. It is our hope people will sign our petition and communicate to lawmakers that enforcement laws must be updated in NM with the hope this won't happen again to a family like ours."
Sign the petition: http://www.change.org/petitions/justice-for-dimitri-stronger-dwi-laws
Follow on Facebook: http://www.facebook.com/pages/Justice-for-Dimitri/144881315650724?notif_t=fbpage_fan_invite