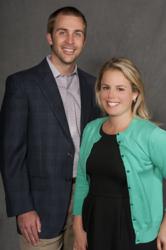 Indianapolis, IN (PRWEB) October 01, 2012
Leah C. Peterson, Peterson's daughter, and Scott R, Forester, Leah's husband, will bring corporate marketing, finance, and operational efficiencies to SEN beginning January 2nd, 2013.
"By adding this very special marketing and financial expertise, SEN will be able to better serve the Members of our group, enabling them to receive more qualified leads, generate more revenue, better their bottom lines, and rebuild the equity in their kitchen and bath design businesses," said Peterson.
Leah C. Peterson will be Vice President of Sales & Marketing. She joins SEN from Response Mine Interactive, an award-winning digital agency that helps companies acquire more customers using digital, direct response marketing. As vice president of client development, her responsibilities included new business development, strategic planning, and marketing for the Atlanta-based agency. She will have similar duties with SEN with a focus on developing national marketing programs to generate consumer leads for member firms and growing the overall membership and purchases of the group.
Scott R. Forester joins SEN as Vice President of Finance & Operations. Currently, he is Director of Accounting at Cardlytics, a transactional-based marketing company that connects retailers with its current and potential customers. He leads a team of five in managing all the accounting functions to ensure the integrity and accuracy of the company's financial results. Forester earned his MBA from the University of Richmond and is a Certified Public Accountant. At SEN, he will be responsible for member rebate administration, automating office operations, and consulting with members on their finances.
"Adding the special expertise, energy, and 25 years of corporate experience that Leah and Scott have to a management team with over 100 years of kitchen and bath industry-specific experience makes the SEN Design Group especially equipped to assist kitchen and bath firm owners to realize their full sales and profit potential," stated Peterson.
About SEN Design Group:
The SEN Design Group is the industry's first kitchen and bath buying and business development group. As an 18-year-old professional organization, SEN has over 210 members nationwide and more than 75 quality vendors in cabinetry, appliances, plumbing fixtures, decorative hardware, closets, lighting, bathroom products, flooring, tile, business services and accessories who offer their products/services to the membership at group rates. Additionally, SEN offers over 40 business development services to its membership, including financial planning, business coaching, business management training, sales training programs, marketing tools to generate leads, networking, and management systems. For more information on SEN, visit http://www.sendesigngroup.com and/or contact Ken Peterson, CKD at 1.800.991.1711 or by email at kpeterson(at)sendesign(dot)com.