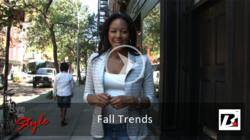 "For today's busy working women, knowing the fashion trends is almost a requirement."
New York, NY (PRWEB) October 09, 2012
In the today's world women have a lot of errands to run and places to go. They are mothers, wives and critical members of the work force. On top of all this they are expected to look good and stay up to date with the latest fashion trends.
That's what makes modern life so interesting and exciting.
However there are so many different styles, boutiques and stores, that sometimes it can seem impossible to choose the one where you can find everything you need to look great.
Join host Sherita Rankin as she takes us into 3ny boutique, where modern and stylish meet traditional.
Next Sherita visits with Creatures of Comfort, a place to go if you want to differentiate yourself from the crowd.
Think outside the box and dress with an Eye on Style.