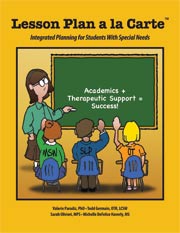 Integrate learning objectives with therapeutic supports and necessary modifications right in the classroom.
Overland Park, KS (PRWEB) October 02, 2012
Multiple worlds exist within the educational universe. Integrated planning happens when each of these worlds (teaching, clinical, administrative, etc.) has ready access to the perspectives and methods of the other, and most important, when all of the planning is directed toward one goal: removing students' obstacles to learning and replacing them with access to learning.
Lesson Plan a la Carte: Integrated Planning for Students With Special Needs features a menu-based model with the vision of finding a straightforward method for educators to integrate learning objectives with therapeutic supports and necessary modifications right in the classroom, and to be able to do so whether they are working alone or as a team. Piloted in a variety of private and public, self-contained and integrated, classroom settings, Lesson Plan a la Carte has proven effective in a variety of settings.
This innovative model provides the tools for creating the kind of integrated lesson plans educators dream of and provides the foundation for a proactive system that addresses academic, social-emotional and behavioral obstacles to learning - all the while saving prep time! An accompanying CD includes step-by-step planning protocol, guided worksheets, methods for identifying student and/or classroom obstacles to learning, strategies, templates, follow-up lesson plan assessments and additional assessment options for internal and state-level documenting and reporting needs that can be tailored to specific students and instructional settings.
"Dr. Paradiz and colleagues have gifted the educational community with a vital resource that provides the structure needed for developing highly effective lesson plans that are aligned with regulatory requirements of today's school settings. Whether used by individuals or in collaborative settings, educators and other professionals will find this book invaluable for integrating all aspects of a student's educational plan while addressing and lowering barriers presented by sensory, cognitive, emotional and other challenges while promoting student success in education and beyond. This book will find a place in my college courses when I teach about IEP development for students with autism and special needs." - Stephen Shore, EdD, professor of Special Education, Adelphi University; internationally known author, consultant and presenter on issues related to the autism spectrum
About the Authors:
Valerie Paradiz, PhD, designs curricula and educational programs for children and adults with autism spectrum and related conditions. She is the developer of Integrated Self-Advocay ISA, a curriculum and certification training series for educators, therapists, families and support providers who wish to help individuals with ASDs achieve greater self-determination and ability in self-advocacy. Dr. Paradiz speaks and consults nationally and internationally for schools, agencies, corporations and universities. Her work has been featured in The New York Times, Redbook Magazine, The Guardian, and on National Public Radio.
Todd Germain, OTR, LCSW, is a clinical social worker and occupational therapist with advanced training in child and adolescent psychotherapy from the William Alanson White Institute. Germain has a private practice in Manhattan where he works primarily with children and families around a variety of developmental and social-emotional issues. Germain has taught clinical social work at Fordham University and is an integrated planning consultant for The Cooke Center for Learning and Development.
Sarah Olivieri, MPS, is involved with a number of organizations serving children, teens and adults on the autism spectrum. Olivieri co-founded the Open Center for Autism in 2005 with Dr. Paradiz and has served as the deputy director of the Global and Regional Asperger Syndrome Partnership (GRASP) and executive director of the Helping Children of War Foundation. Olivieri received her BA from the University of Chicago with a focus on globalization and its effect on marginalized cultures, studying in Spain, Tanzania and Cuba, and finally moving to Japan to teach English. In 2009 Olivieri completed a master's degree in humanistic and multicultural education at SUNY - New Patz.
Michelle DeFelice Haverly, MS, has been a teacher of people with special needs for over 15 years. During those years, DeFelice Haverly has served as a special educator of students with a wide range of abilities in various settings. DeFelice Haverly has also been a college instructor, tutor, Special Olympics coach and trainer, workshop writer, program developer, volunteer, consultant, presenter and mentor. DeFelice Haverly currently writes workshop materials and trains school-related professionals as well as teachers and consults with school districts to improve the quality of education for all students, especially those with ASD and related diagnoses.
About AAPC Publishing
Established in 1999, the mission of AAPC Publishing is to be the first source for practical solutions related to autism spectrum and related disorders. AAPC Publishing is an independent publisher, targeting professionals and parents alike. AAPC Publishing strives to offer publications at affordable prices so that important resources are available to anyone with an interest in the autism spectrum.
For media inquiries, please contact marketing (at) aapcpublishing (dot) net.