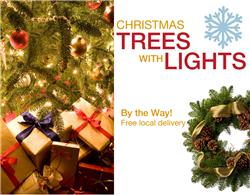 What's better than a pre-lit Christmas tree with free delivery?
Metairie, La (PRWEB) October 10, 2012
The Garden Gates, a lifestyle boutique featuring the best in home decor and outdoor decor, began delivering Christmas trees from one simple request. Now it has grown to delivering over 2,000 trees each year with no end in sight. To take it a step further, they began offering pre-lit Christmas trees with complimentary delivery to the New Orleans and Metairie area. This has gone over so well, that it has become a tradition for many locals year after year.
The Garden Gates offers Fraser Fir Christmas trees because of their high quality and long-lasting beauty, fragrance and needle retention. There's nothing better than a fresh smelling Christmas tree and home during the holidays, and with complimentary deliver, there's not much of an excuse to skip the tree this year. They can be ordered online, by phone or in store - whichever way that is most convenient.
With their pre-lit Christmas trees, The Garden Gates ensures that each tree has at least 100 white bulbs per foot for a well-lit, sparkling Christmas tree. When it arrives at a customer's home, The Garden Gates' delivery people will bring the Christmas tree inside and place it wherever it needs to go. They also plug in all the lights to make sure that they are working properly before heading to their next delivery location. It's this kind of customer service that makes The Garden Gates stand out, especially during the business of the holidays. They take the time to make sure each and every customer is happy with their Christmas tree.
About The Garden Gates:
Founded by Jacqueline Elizabeth Kendall-Harris and Chad Harris in 1999. Jacqueline plays an instrumental role in product development, interior design and the developing the core principles of The Garden Gates lifestyle. Chad plays an instrumental role in the creativity of the brand, marketing and technology of the business.